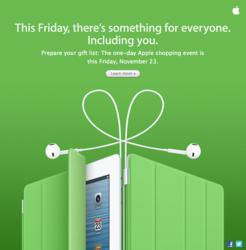 Apple gadgets are top choices. And as it added, iPhones, iPads, iPod Touchs and iMacs are surely high on everybody's holiday shopping list.
New York, NY (PRWEB) November 22, 2012
For the last two years, Apple has been giving out Black Friday deals. As reported by pcmag.com, this year, the company will again hold an "Apple discount-shopping event." And stating that millions got the company's gadgets high on their holiday shopping list, NeeWee advised all "iFans" to gear up for the event so as not to be left out.
According to an earlier post from macrumors.com,the giant technology company first teased its customers about its Black Friday deals with an ad on its Australian website. And as updated by the pcmag report, that tease was confirmed yesterday.
However, the report detailed that the Apple shopping event will only be for 24 hours on November 23rd. It stated that on the company's websites, the deals will be available shortly after midnight on Friday. Additionally, it related that customers could personally purchase the gadgets on Apple stores across the country from 8 a.m. to 10 p.m. rather than the usual store hours of 10 a.m. to 9 p.m.
Below is a part of the post Apple Confirms Its Black Friday Shopping Event by NeeWee.com.
"Are you an iGadget fan? Well, gear up for Friday because Apple will have its annual Black Friday Sale.
The company teased its customers earlier this week about the said "discount day" on one Australian online Apple store. And yesterday, as pcmag.com related, it already confirmed the "one-day Apple shopping event" happening on November 23rd."
According to the technology news site NeeWee.com, Apple gadgets are top choices. And as it added, iPhones, iPads, iPod Touchs and iMacs are surely high on everybody's holiday shopping list. So, as it expects that millions of customers will flock the Apple stores, it advised its readers who intend to join the Apple shopping spree to get ready to purchase early and quickly.
Get More Technology News and Updates at NeeWee.com