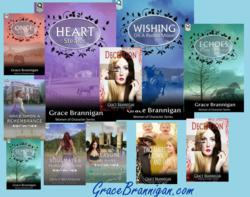 "Too often, today, we read stories where the lead female characters are weak or always need the assistance of a man," explains Brannigan, "My stories are different. By having a strong women lead in the story, I hope to inspire the women who read them."
East Jewett, New York (PRWEB) November 23, 2012
Brannigan has authored a line of e-books, contemporary romance, time travel romance and romantic short stories, including an entirely new endeavor for ebooks, utilizing the Open Dyslexic font, a free font created by Abelardo Gonzalez. http://www.dyslexicfonts.com for those readers with dyslexia or reading difficulties.
Famous author Charlotte Bronte once said, "Life is a battle; may we all be enabled to fight it well." With those words, she could very well have been describing the lead characters in author Grace Brannigan's books that focus on strong women. The books, which feature a line of strong women in the lead role, set a good example for women who enjoy reading about overcoming challenges and being successful despite adversity.
"Too often, today, we read stories where the lead female characters are weak or always need the assistance of a man," explains Brannigan, "My stories are different. By having a strong women lead in the story, I hope to inspire the women who read them."
In her women of strength trilogy, which are all historical fiction, six family members throughout time encounter challenges and turns, yet manage to find love along the way. Each of the women of strength time travel books takes place in different time lines, ranging from modern times to the 1800s to the Middle Ages.
"As people read about these women of strength, they will find, as Bronte said, that there are battles," added Brannigan. "Yet these strong women have been enabled to fight well. They face challenges, are tested in crisis, and come out stronger. Those looking to read about strong females who value family today will find them right in my books."
In November, Brannigan released the first two ebooks romances in Open Dyslexic font for those with dyslexia or reading difficulties. This is an entirely new approach in reading ebooks.
Brannigan's line of ebooks is available in all digital formats and through all major online retailers such as Amazon.com and Smashwords.com. The Open Dyslexic editions are available at Brannigan's website.
About Grace Brannigan:
Grace Brannigan is a long-time successful author who has written for Harlequin/Silhouette, as well as Questor Books. Her work focuses on stories that feature a strong lead woman, as well as a line of books that focus on paranormal time travel stories. She also has a line of short romantic stories which are available in Open Dyslexic format, to make for easier reading for those who have dyslexia or reading difficulties. To learn more about Brannigan or the books she writes, visit her site at http://www.GraceBrannigan.com