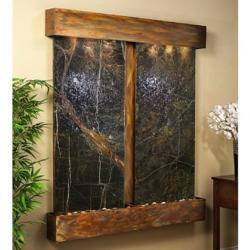 Camas, WA (PRWEB) November 23, 2012
Soothing Walls launched their new website design today to assist buyers with their holiday shopping needs. The website, http://www.SoothingWalls.com, is easy to maneuver through and offers the finest indoor and outdoor fountains on the market today. For businesses, they offer unique custom Logo fountains that are ideal for business entryways and reception areas to create a sense of calm while promoting their brand.
Soothing Walls is dedicated to bringing consumers products that create a space of relaxation, and there is no better way than with an indoor or outdoor fountain. Stress surrounds us while on the job and at home; it is essential to create a healing sanctuary to reduce stress and keep our bodies healthy. Scientific research indicates that over 40% of adults suffer adverse health effects as a direct result of stress. Stress increases the chance of developing many chronic health conditions including diabetes, high blood pressure, cardiovascular problems, depression, anxiety, and asthma. The U.S. Occupational Safety and Health Administration recently declared stress a legitimate hazard in the workplace.
Many of the products available through Soothing Walls are perfect for both office and home settings. Creating an area of escape within your business is easy and cost effective. A break room or spare office can be transformed into a soothing space with the addition an indoor wall water fountain. Even with just a few moments a day, employees will be better able to handle the natural stresses that occur and will become more productive. Consider for the holidays creating a sanctuary in your place of business for your employees to keep your staff healthy and relaxed.
Gifts for clients, friends and family through Soothing Walls are available in a variety of price points. Tabletop fountains are an ideal gift that immediately transforms a space into a tranquil and soothing setting. They are available in a variety of styles, prices and sizes to fit into any room, any décor and for any budget. http://www.SoothingWalls.com allows consumers to shop by price, finish, and surface material making it a breeze to find exactly the fountain desired.
About Soothing Walls
Soothing Walls is dedicated to helping consumers create sanctuaries for their homes and offices. Products available include a variety of indoor, outdoor, tabletop, custom and logo water fountains as well as the accessories needed. These high quality products help create spaces that relax and soothe the mind, body and spirit. Visit http://www.SoothingWalls.com for more information on the products available.