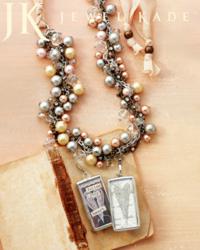 "This time of year is all about making an impression," says Janet Kinkade, JK Founder, President and Designer. "Wear stand-out pieces that reflect the beauty and energy of the season."
Alpine, UT (PRWEB) November 21, 2012
Whether deciding what to wear to that fabulous holiday party or searching for those just-right gifts, 'tis the season to unwrap the latest in holiday jewelry trends.
"This time of year is all about making an impression," says Janet Kinkade, Jewel Kade Founder, President & Designer. "If you're headed to a company party or weekend celebration, it's time to shine. Wear stand-out pieces that reflect the beauty and energy of the season – crystals, pearls, rhinestones."
"When shopping for gifts, jewelry is a perfect way to send the message that you care," adds Kinkade. "Ideally, you want to find items that are on point with the latest trends – such as layering pieces and those that blend different metal tones – but you also want to find pieces that will be meaningful to the recipient. That's why we're seeing more people choose custom charms as gifts."
Throughout the 2012 holiday shopping season, Jewel Kade has seen a surge in its JK Photo Charms, designed by customers online and handcrafted by JK production artists in the company's studios in Alpine, Utah. Other popular custom pieces include JK's Kate Stamps, Jack Tags and Sadie Pearl Necklace, which customers can personalize with names, initials, or phrases that are hand-stamped by JK production artists.
As for holiday event wear, Jewel Kade's special occasion pieces are in high demand. Shimmering pieces – necklaces as Breathless, Glamour Pearls and Last Dance, and bracelets like Duchess and Enchanted – are top sellers.
"I believe great jewelry should always incorporate on-trend design and soulful artistry," says Kinkade. "Whether you're shopping for yourself or those you love this holiday season, pay attention to pieces that reflect inner and outer beauty."
ABOUT JEWEL KADE
Artisan jewelry. Handcrafted charms. Inspiring décor. Available through JK Stylists nationwide, Jewel Kade is a fresh take on timeless fashion. Founded by Designer Janet Kinkade, Jewel Kade's Signature Charms are all handcrafted in JK's Production Studios in Alpine, Utah. Jewel Kade has garnered media attention – appearing on ABC News, The Today Show, The Ellen Degeneres Show, and American Idol. (Citing media references does not imply endorsement of Jewel Kade products in any way by media, related production companies or related spokespersons/personalities.) Committed to making a difference, Jewel Kade also offers the JK Cares Collection. For every JK Cares piece purchased, 5% of the proceeds goes directly to help in the international fight against diseases that affect millions of women: breast cancer (Huntsman Cancer Institute) and heart disease (American Heart Association). For more information on Jewel Kade's inspiring story, artisan jewelry and Poetry Custom Canvases, visit http://www.jewelkade.com in the US and http://www.jewelkade.ca in Canada.