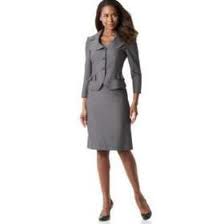 (PRWEB) November 21, 2012
Wholesale suits for women can be sold at a rapid rate using the newly released sales strategies by CloseoutExplosion.com. Donny Lowy, who manages Closeout Explosion, a brand name fashion supplier to retailers, has published a new article that contains tips on use to use the concept of daily deals to sell more corporate women's suits. These strategies can be used by high end clothing shops catering towards bankers and by discount apparel outlets catering towards budget minded consumers.
"Daily specials have been traditionally used by restaurants to draw in shoppers on a regular basis to their establishments. I have taken this concept and applied it to the market for designer office outfits. As a wholesaler one of my main closeout categories is brand name suits. I have therefore developed tips for resellers to attract shoppers to their merchandise," said Donny Lowy, who supplies overstock dress wear to high end boutiques in Nigeria, Kenya, South Africa, and many other countries.
This new retail business article offers important sales tips written by an experienced wholesaler, such as:
-The Importance Of Offering Specials On A Daily Basis To Your Shoppers
-Why Repetition Is Important In Sending A Strong Marketing Message To Clothing Buyers
-Actual Examples Of Powerful Special Offers That Can Help You Sell More Suits
-How To Use The Concept Of Daily Specials To Introduce A New Designer Label To Your Market
-Why You Should Not Make The Mistake Of Simply Offering Discounted Prices As Your Daily Special
-What You Must Always Explain To Your Customers When Offering Them A Special Deal On Closeout Suits
-The Importance Of Matching Your Marketing To Your Clientele
-How Offering A Service Can Make A Perfect Deal
-The Most Important Ingredient You Should Never Overlook When Selling Suits
Donny Lowy runs a wholesale warehouse located in Brooklyn NY that caters to domestic and international buyers of surplus and liquidation merchandise. By focusing on special closeout purchases from American department stores, bankruptcy sales, going out of business sales, and other merchandise sources, he is able to provide his customers with popular brand name labels at what are highly competitive rates which are often below wholesale. In addition, many of the brands that Closeout Explosion sells might not be widely available in certain countries, so a closeout buyer can benefit by bringing these brands to their local market.