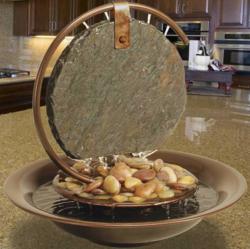 Camas, WA (PRWEB) November 24, 2012
The Soothing Company announces today the launching of their new website http://www.TheSoothingCompany.com; just in time for holiday gift giving. The website is easy to maneuver and find exactly the soothing gift for a family member, friend or colleague. Relaxation is an art and studies show that individuals that have a relaxation space and take time out of their busy days to relax and rejuvenate are more productive in the rest of their lives.
The Soothing Company offers the finest products to create a space of sanctuary in your home or in your office. Water fountains, fireplaces, beanbag chairs, and both indoor and outdoor soothing and relaxation products are available. Shoppers this year can now focus on gifts that create a relaxation space while rejuvenating the mind, body and spirit.
Creating a sanctuary within a home or office can be as simple as purchasing the right combination of soothing products. An indoor water fountain releases a sense of calm and creates a soothing and nurturing environment. Indoor fireplaces can now be safely placed into any room of a house or office; electric, gel, tabletop and bio ethanol fireplaces are available in a variety of styles to match any décor.
Electric fireplaces add drama and romance to any room as well as create warmth and style. Many can be retrofitted into existing walls. Many wall mount styles are available to either be recessed or simply mounted on the wall of any room. Outdoor spaces can become havens of relaxation with the addition of hammocks, water fountains, lighting, and more. The Soothing Company's new website is the number one source on the internet for individuals seeking to create a sanctuary. Visit there new website http://www.TheSoothingCompany.com and browse through the array of products they offer.
About The Soothing Company
The Soothing Company is dedicated to bringing consumers the finest products available to create sanctuaries within their homes and offices. They offer a variety of fountains including outdoor, floor, tabletop, wall and custom fountains as well as other soothing products such as fireplaces and other features. The Soothing Company has products to fit every décor and any budget. Visit http://www.TheSoothingCompany.com for more information.