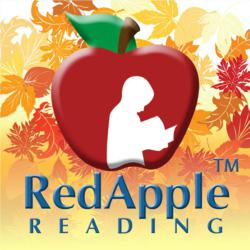 If 1,000 teachers sign up across the U.S., it will help 20,000 to 30,000 students who need reading help.
Beaumont, CA (PRWEB) November 23, 2012
Public school teachers across the United States are now eligible to use the new Red Apple Reading program — designed to help children read through online educational games and fun reading activities — free of charge. The 12 month premium package for educators is valued at over $500.
"We're determined to help young children learn to read, and we invite public school educators to sign up for free through January 31st, 2013," said Tammy Bennecke, founder and president of Red Apple Reading. "If 1,000 teachers sign up, it will help 20,000 to 30,000 students who are reading below a 3rd grade level and need reading assistance."
Tammy is a former elementary school teacher who founded Red Apple Reading after spending 14 years in the California public school system. She realized that when it came to reading skills, too many children were 'slipping through the cracks'. Tammy assembled a team of top experts, and began crafting what eventually became Red Apple Reading. She wanted something that would be easily accessible, based on top teaching techniques, and fun for the children who used it.
The Red Apple Reading program offers state-of-the-art online instructional software that captivates young school-aged children (Pre-K through Grade 2), turning them into active, confident readers. It's designed for children who are just learning how to read, and those struggling with beginning reading skills in American English.
Over 75 lessons are taught in a clear, explicit manner and they progress in a systematic, logical teaching order. Skills are in alignment with the Common Core State Standards in foundational reading skills adopted by most U.S. states. Each lesson builds on what has been previously taught, and children must demonstrate mastery of one lesson before continuing with another. Periodic review checks ensure that learning takes place, and teachers are kept informed of the child's learning progress.
"We're doing this for children and their families," said Tammy. "The free subscription offer is extended to public school teachers anywhere in the United States. When students learn to read, then they can read to learn, and have a much higher chance of success in life. And with the program completely online, students can access it even when they are at home or outside of school."
Public school teachers can take advantage of this special offer by visiting the Red Apple Reading website at: http://www.redapplereading.com/content/educator-promos. It's simply a matter of completing and emailing a form to get the free account set up.
About Red Apple Reading:
Red Apple Reading is a Montana company founded in 2011 by educator Tammy Bennecke, with offices in Southern California. The program is expanding from its development phase ("Level A") to programs that will soon be available for pre-kindergarten through third grade reading students. Red Apple Reading plans to expand into other subject areas as the company's growth continues.
Their team also includes experienced classroom teachers, reading intervention teachers, school psychologists, speech pathologists, skilled animators, highly trained web developers, and parents of school-age children. The outcome is a highly effective program based on the work of professionals who have spent decades in U.S. schools.