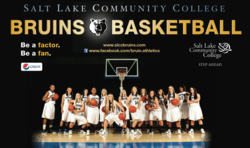 Salt Lake City, UT (PRWEB) November 22, 2012
The Salt Lake Community College's Men's & Women's Basketball teams are hosting the Fall Classic Basketball Tournament. The Tournament will take place November 23 & 24 at Bruin Arena on the College's Taylorsville Redwood Campus, located at 4600 South Redwood Road.
The SLCC Women's Basketball team opens the tournament with a game against Lamar Community College on Friday, Nov. 24 at 5:00 p.m. The SLCC Women's team will also play Northwest Wyoming on Saturday at 2:00 p.m.
The SLCC Men's Basketball team plays Eastern Wyoming at 7:00 p.m. on Friday. The Bruin Men's team will take on the Pro Look Academy on Saturday at 6:00 p.m.The games will be streamed live at slccbruins.com.
Head Coach Todd Phillips is in his second full season as SLCC Men's Basketball head coach. Phillips and his staff moved eight of their players from the 2011-2012 SLCC Men's squad on to compete and study at four-year institutions.
Betsy Specketer is in her 17th season leading the SLCC Women's Basketball program. She has a 364-151 career record. Over the last ten years, 25 SLCC players have been recognized as Academic All-Americans, 21 players have been recognized as Distinguished Academic All-Americans, and 72 players have been named to the Scenic West Academic team.
For more information, contact Gavin McCallister at: (801) 957-4311.
About the College: Salt Lake Community College is an accredited, student-focused, urban college meeting the diverse needs of the Salt Lake community. Home to more than 62,000 students each year, the College is the largest supplier of workforce development programs in the State of Utah. The College is the sole provider of applied technology courses in the Salt Lake area, with 13 sites, an eCampus, and nearly 1,000 continuing education sites located throughout the Salt Lake valley. Personal attention from an excellent faculty is paramount at the College, which maintains a student-to-teacher ratio of less than 20 to 1.