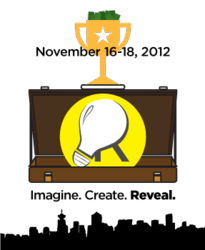 I was quite impressed at the level of intelligence of all teams
Vancouver, BC (PRWEB) November 26, 2012
Ramin Behzadi, Co-Founder and CEO of Sidebuy Technology Inc, participated as one of six judges at the REVEAL Business Competition 2012. The competition took place November 16-18, 2012 at the University of British Columbia's Sauder School of Business.
An MBA graduate of the University of British Columbia himself, Behzadi used his expansive technology development and marketing expertise to grade the performance of 11 finalists out of a total of 22 teams presenting on the last day of competition. After being part of three start-up businesses, Behzadi has a sophisticated understanding of what it takes to create a business strategy and the consequences and benefits of business decisions.
"It was an honour to receive an invitation to guest judge the REVEAL Business Competition. The students did a great job and really applied their skills and knowledge in a real world setting. I was quite impressed at the level of intelligence of all teams," Behzadi said.
The competition included 22 teams, each comprised of four undergrad business students from across Canada, who demonstrated their intelligence, creativity, and teamwork to complete a set of challenges in a simulated, real-time workplace environment. At the end of the weekend, the teams presented their business strategies and outcomes to the panel of judges. The winning team took home a cash prize. For more information about the REVEAL Business Competition, go to http://revealcompetition.com/
Ramin Behzadi has a bachelor of science in engineering and an MBA from the University of British Columbia. Prior to creating SideBuy, he was a founding member of two other start-ups: Hosterix and Faraz Rasaneh. Besides being the co-founder and CEO of SideBuy, Behzadi is also in charge of marketing and business development. He can be found on LinkedIn at http://ca.linkedin.com/in/behzadiramin and followed @raminbehzadi on Twitter.
About SideBuy.com
SideBuy Technology Inc. is a Vancouver based technology start-up that develops technologies and applications to help consumers with online shopping and e-commerce. SideBuy.com is a personal shopping assistant that lists all deals available in Canada, US, Australia and United Kingdom. By compiling such a vast list, SideBuy can offer users up to 90% discounts from all over the web and is the most efficient way to score the best deals. Visit http://sidebuy.com to learn more.