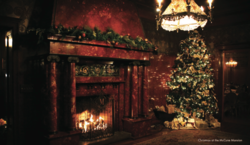 Salt Lake City, UT (PRWEB) November 26, 2012
Salt Lake Community College Fashion Institute students are taking part in a benefit fashion show in support of the American Cancer Society. The event will take place on Saturday, December 1, at 2:00 p.m. at the McCune Mansion, located at 200 North State Street in Salt Lake City.
Students in the program have submitted their original designs for the show that will also feature clothing and accessories from The Children's Hour, one-of-a-kind hand-painted silk scarves and hand-woven wool/silk shawls by Sandra Ence, and hand-crafted jewelry by Brianna Chamberlain.
Appetizers and beverages will be served.
Advance tickets are available for $25.00 from smithtix.com or by calling (801) 467-8499. Tickets can also be purchased the day of the event for $30.00 at the McCune Mansion.
This benefit event has been underwritten by The McCune Mansion & The McCarthey Family Foundation.
For more information, contact Mojdeh Sakaki at: (801) 957-4311.
About the College:
Salt Lake Community College is an accredited, student-focused, urban college meeting the diverse needs of the Salt Lake community. Home to more than 62,000 students each year, the College is the largest supplier of workforce development programs in the State of Utah. The College is the sole provider of applied technology courses in the Salt Lake area, with 13 sites, an eCampus, and nearly 1,000 continuing education sites located throughout the Salt Lake valley. Personal attention from an excellent faculty is paramount at the College, which maintains a student-to-teacher ratio of less than 20 to 1.
# # #