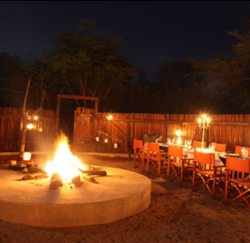 Limpopo, South Africa (PRWEB) November 26, 2012
Vuyani Safari Lodge has been named among TripAdvisor's the top ten lodges in the Hoedspruit area only 4 years after it's launch. Located on the Moditlo Private Game Reserve, Vuyani offers five suites on the 36,000-acre reserve, giving guests unrivaled privacy during their stay.
Vuyani Safari Lodge ranked sixth on the list, due in part to the litany of stellar five-star reviews for the lodge on the site. "We just returned from a five-day safari at the Vuyani Lodge and it was the most amazing vacation," one reviewer wrote. "Everything from the decor, food, staff and game drive guides made our trip special."
The lodge sees this as an incredible achievement, especially after so much time. Vacationers are increasingly turning toward sites like TripAdvisor to make decisions about lodging and amenities in an area, so all the positive online attention is good for the Hoedspruit area in general.
"Vuyani Safari Lodge offers relaxed, yet luxurious, ambiance," Vuyani Safari Lodge's Bernard Coppes says. "Safaris, as well as day trips and activities, are all part of showing guests one of the most famous natural beauty spots in the world."
The reserve offers both morning and afternoon safaris for guests to explore the beautiful reserve. Each drive gives guests more than three hours of exploration with a knowledgeable guide in a safari vehicle. Elephants, rhinoceros, and many other protected species are allowed to roam freely throughout the 36,000-acre South African safari property. The Moditlo Private Game Reserve is also home to some highly endangered species, including the ground-hornbill and the brown hyena, among many others. Guests are offered a once-in-a-lifetime opportunity to see these species in person.
For those who would like to explore further, the nearby Kruger National Park is a great place to see "big five" game, which are lions, leopards, rhinoceros, African elephants, and Cape buffalos. Vuyani Safari Lodge offers drives to the Kruger National Park for a small fee.
When not exploring, guests can enjoy river cruises, hot air balloon rides, white water rafting, and golf. Vuyani Safari Lodge also offers guests three delicious meals each day served by talented chefs, as well as access to beverages and snacks throughout the day.
In addition to providing one of the best resort experiences available to visitors to South Africa, Vuyani Safari Lodge regularly offers specials for multiple-night stays. Vuyani Safari Lodge strives to keep its rates among the lowest in the area to ensure the best value for its guests.
To plan a stay at Vuyani Safari Lodge or check availability, visit http://www.vuyanilodge.com/contact.html or call +1.940.560.9623. The reservation office of Vuyani Safari Lodge is open 24 hours a day with staff always on hand to take reservations. Rates include all meals, free mineral water, and tea, coffee, and juice during breakfast. Vuyani Safari Lodge also covers transportation to and from the Hoedspruit airport.