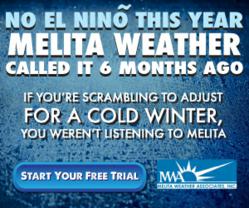 Durango, Colorado (PRWEB) November 26, 2012
In a stunning reversal the National Weather Service cancelled their El Niño Watch in a report issued November 8. El Niño is a condition in which warm water in the tropical Pacific Ocean contributes to mild winters in the heavily populated areas of the eastern U.S. From as far back as last spring, U.S. Government and nearly all private weather forecast providers have consistently predicted El Niño would be well underway by now contributing to a mild winter ahead.
The lone exception was Melita Weather Associates (MWA) who for the last 12 months has consistently advised its clients there would be no El Niño and this winter would be much colder than predicted by the government and other private forecasters. Even when tropical Pacific waters did begin to warm during the summer MWA remained adamant that full El Niño development was impossible given the larger scale Pacific environment.
In October tropical Pacific conditions reversed to the point where Government and private weather providers began to question El Niño, and only recently (November 8) did NOAA's Climate Prediction Center cancel their El Niño watch. In response government and private forecasters are radically cooling their previous mild winter forecasts to call for a much colder winter.
MWA energy and financial sector clients have had the cold winter forecast for over 6 months.
MWA employs world renowned atmospheric scientists, many of whom are former researchers at the National Center for Atmospheric Science (NCAR) in Boulder, Colorado. Headed by veteran Meteorologist Dave Melita, MWA has been providing long range weather forecasts to the Energy sector since the mid-1990s, that are widely known for accuracy and often contrary to mainstream consensus. MWA offers free 2 week trial subscriptions to its weather forecast newsletters and proprietary 30-day computer model model forecasts. MWA can be reached at http://www.melitaweather.com or (970) 385-8695.