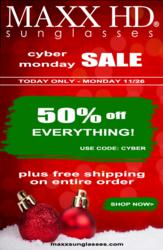 (PRWEB) November 25, 2012
MAXX HD® Sunglasses announces their huge Cyber Monday Sale. On Monday November 26, 2012, the MAXX Cyber Monday deals will offer customers 50% off the entire inventory on http://www.maxxsunglasses.com. Additionally, MAXX Sunglasses will offer free shipping on your entire order.CODE WORD is CYBER.
For all those that want to spend Thanksgiving enjoying time with their family and friends rather than a mob at the stores, and those who prefer to sleep in on Black Friday, shop at home Cyber Monday is a great alternative.
"This is a great opportunity for current customers to stock up on their favorite styles or to try new ones," stated Chana Kolman, MAXX HD ® PR Director. "This is also an ideal time for new consumers to try our high definition lens."
The Maxx HD ® Cyber Monday sale will run for one day only on Monday November 26, 2012 from 12 am – 12 pm MST.
For more information please visit the company website at http://www.maxxsunglasses.com