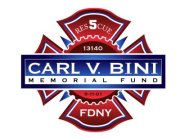 We are putting out a call to everyone across the country to support the victims of Hurricane Sandy.
New York, NY (PRWEB) November 21, 2012
The Carl V. Bini Memorial Fund (CVB Memorial Fund), a Staten Island based non-profit, has launched a national fundraising campaign to fuel the rebuilding process in areas of devastation on the heels of the largest weekend in retail sales. Sandy Sunday© is a national appeal to businesses and individuals beginning November 25th and continues until December 23rd. Participation ranges from contributing a portion of the days revenue to making a one-time donation, on one or all of the following five Sundays. The non-profit is actively seeking retailers, restaurants, fast food chains, and small businesses to engage in the campaign, and is already in conversations with several interested parties.
Consumers and businesses recognize Black Friday, American Express Small Business Saturday, and Cyber Monday. Sandy Sunday began as a concept to help rebuild affected areas of Staten Island, but with the right partners, CVB Memorial Fund feel it has the very real capacity to raise enough funding over the course of five Sunday's to provide aid to the entire east coast.
"Once we set this initiative in motion we received an incredible response from local businesses," said Massimo DiDonna, Co-Founder of CVB Memorial Fund. "We are now putting out a call to everyone across the country to support the victims of Hurricane Sandy, because together we will make difference."
According to CNN.com, total consumer spending in 2011 for the weekend after Thanksgiving was a record-breaking $52.4 billion dollars; a 16% increase from 2010. In addition, a record 226 million consumers shopped in stores and online between Thursday and Sunday, up from 212 million the prior year. The average holiday spending increased as well from $365.34 in 2010 to $398.62 last year.
"People need to remain cognizant of the fact that there are thousands of families who have nowhere to spend their holidays this year," said Kevin Jamison, CVB Memorial Fund Board Member. "If everyone were to contribute a fraction of the money they saved this weekend because of the sales that are going on, the impact it would have is nothing short of monumental."
Those interested in registering for one or all of the Sundays in the Sandy Sunday appeal can visit http://www.SandySunday.org and fill out a brief online form. The site also provides marketing materials such as branded Facebook Timeline photos and posters to help promote your involvement. All participants will be featured on the wesbite as a supporter.
About The Carl V. Bini Memorial Fund
The Carl V. Bini Memorial Fund was founded in honor of Firefighter Carl V. Bini, a member of the FDNY tragically taken during 9/11. The fund's mission is to memorialize the heroism of its fallen hero by providing immediate aid to those who so desperately need it now and in the future.
For more information about the organization please visit: http://www.BiniFund.org
To register/learn more about Sandy Sunday please visit: http://www.SandySunday.org
Contact:
Anthony Rapacciuolo
PRcision
Tel: 718-490-5023
Email: Ajr(at)PRcision(dot)com