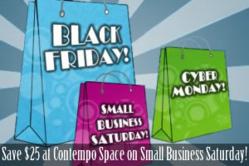 Black Friday got its start in Philadelphia in the 1960's.
(PRWEB) November 21, 2012
We've all heard about Black Friday, the infamous start of the holiday shopping season. But how did we end up with Cyber Monday and Small Business Saturday?
The term Black Friday seems to have actually gotten its start in Philadelphia in the 1960′s, where automotive, pedestrian and indoor traffic caused by huge numbers of shoppers made it a rough day for police officers and cab drivers, who gave the Friday after Thanksgiving the name many know it by today.
Later this relatively negative sounding origin would be softened by the spreading of the idea that accounting practices relating black ink to profits led to the Black Friday moniker, as the profitable holiday shopping season kept retailers "in the black." However, there appears to be no evidence of this idea surfacing until sometime in the 1980′s.
Recent years have seen the largest retailers gaining the most benefit from the Black Friday craze, as Black Friday Deals from the likes of Best Buy, Target and Wal Mart compete with one another for consumer attention and dollars.
Cyber Monday – A Self Fulfilling Prophecy
Unlike Black Friday, which naturally became a day for many to start their holiday shopping since they had they day off from work, there is evidence that Cyber Monday started out as a creative marketing myth.
A trade association for online retailers invented the term "Cyber Monday" in 2005, in order to "create some consumer excitement."
The marketing implied that the Monday after Thanksgiving had become remarkable in the amount of online purchases made.
At the time, statistics showed that the Monday after Thanksgiving actually ranked 12th for online spending, not even in the top 1/3 of the 32 day long shopping season.
Admittedly, the campaign turned out to be brilliantly effective in its ability to affect the behavior of consumers, as Cyber Monday 2011 was a record breaker.
Small Business Saturday – A Shopping Day Worth Supporting
Small Business Saturday is a different kind of effort, for which American Express gets the credit.
Small Business Saturday was officially kicked off in 2010, when American Express used radio, television and social media to successfully gain huge support for a day of "supporting small businesses and all they do for their communities."
The movement met with continued success for 2011, when AMEX approximates that 103 million Americans shopped at small businesses on Small Business Saturday and generated a 23% increase in AMEX transactions.
Save $25 Shopping on Small Business Saturday
How did this new shopping day get so successful so quickly? By offering rewards for American Express cardholders who shopped at small businesses.
With large national and international retailers grabbing more and more of shoppers' attention each year with shopping deals and promotions, AMEX decided to go with a proven technique and reward cardholders a $25 credit on statements if they shop at qualifying small businesses on Saturday.
Small business owners across the country have been supportive of and thankful for the initiative, no pun intended.
What Counts as a Small Business for Small Business Saturday?
There's some fine print (for example, corporate and prepaid cards are ineligible), but some eligibility requirements from the Small Business Saturday Homepage include that an eligible small business must:
Be locally owned
Have under $10 million annual revenue
Not be part of a franchise with over 100 stores
Not be a government, nonprofit, political or religious organization
Not promote certain products including pharmaceuticals, gambling or firearms
Shop Small on Saturday with Contempo Space
Contempo Space is indeed a qualifying American Express Card accepting small merchant.
This means that a, American Express purchase in-store, by phone or online at contempospace.com will not only support the kind of service and quality that only an American shop with American made products can offer, but you can also save 25 bucks!
Please note that American Express offers only a single $25 credit, not a credit for each purchase. Their terms and conditions are here. We cannot answer specific questions about the American Express offer or negotiate the terms of the offer on a customer's behalf.
Who is Contempo Space?
Contempo Space has been specializing in custom home furnishings for 30 years, offering modern lines of bedroom furniture, living room furniture and more. Design consultants and craftsmen work with customers to create the perfect piece for any space, hand-crafted to meet the customer's specific needs.
To learn more about Contempo Space, the one-of-a-kind company that still puts quality first and still designs and manufactures furniture locally at its Passaic, NJ factory showroom:
Visit http://www.contempospace.com, call 888-266-1280 or visit the showroom on Canal Street @ Passaic Street, Passaic, NJ.
Originally published at http://www.contempospace.com/contempo-space-blog/11/20/black-friday-small-business-saturday-cyber-monday-what-does-mean.