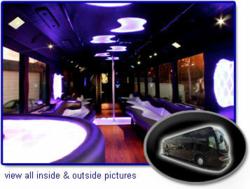 (PRWEB) November 27, 2012
Pacific Limo Bus, the leading luxury transportation service provider in Southern California, is gearing up for the holiday season by offering its customers a special promotion when they book a vehicle for five hours or more.
Starting on Thanksgiving and going through Christmas and New Year's, Pacific Limo Bus will join the season of giving by giving its customers a free hour when booking a vehicle from the Pacific Limo Bus fleet for at least five hours.
Starting at an unheard of $99 an hour for Party Buses and $69 an hour for Limousines, there isn't a better deal around in the Los Angeles and San Diego area.
A Party Bus in San Diego is sure to bring jolly good times to all passengers during this special time of the year.
Nothing beats the Pacific Limo Bus San Diego Party Bus experience. With vehicles that exceed all industry standards, and come equipped with state-of-the-art sound systems, there's no better way to ring in the New Year with a night to remember riding Pacific Limo Bus.
For more information on Pacific Limo Bus' services, contact a Pacific Limo Bus representatives today or visit partybusandlimos.com.