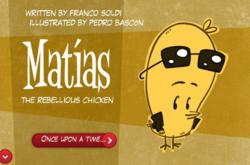 Brainy Fables teach kids valuable life lessons and encourage thinking outside the box.
Toronto, ON (PRWEB) November 22, 2012
Entertainment content developer Next Stage Productions today announced the dual language English/Spanish cross-platform release of new title "Matias the Rebellious Chicken", as well as the new release of all Brainy Fables titles on Google Play. Great new features across all titles include hidden sounds, animations, coloring tools, and the ability to write as save your own ending to the story.
"Matias the Rebellious Chicken" is the story of a defiant young chick who wants to get off the farm and experience life. In his adventures he learns an important lesson about appreciating what he already has.
Other new Brainy Fables titles now available in the iTunes Store and on Google Play include Horacio the Piglet, Mirta the Super Fly, Uxmal and the Great Pyramid Challenge, and Marcelo the Fox.
Like all great fables, the Brainy Fables series of kids book apps for children ages 4-7 help parents bring fun and positive messages into story time with a collection of brand new characters, stories and lessons. Language options in both English and Spanish on all apps in the series create great reading opportunities for multi-lingual families. Brainy Fables titles are written by Franco Soldi and illustrated by Pedro Bascon.
"Matias the Rebellious Chicken is one of the stories my children have asked me to tell over and over," says author and Next Stage principal Soldi. "It teaches the value of things close to you, and I hope that lesson can be helpful to parents and children everywhere."
Brainy Fables apps offer charming illustrations, animation and various features that enhance the reading experience - narrated or read myself options, hidden sounds and interactions, a summary of the story's lesson, coloring pages, dual language English/Spanish options and the ability for children to write and save their own ending to the story.
ABOUT NEXT STAGE PRODUCTIONS:
Author Franco Soldi is a father, creator and communications expert who has focused much of his career on the empowerment of youth and bringing ideas to life. His company Next Stage Productions is the developer of the Brainy Fables series and a growing slate of other upcoming entertainment properties.