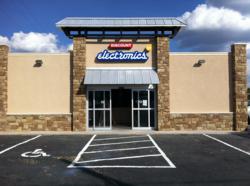 Discount Electronics now sells Apple as well as Dell
Austin, TX (PRWEB) November 22, 2012
If you think the newest Discount Electronics retail location looks a lot like their oldest store on West Anderson Lane it's no coincidence. The store was designed as a miniature copy of the flagship store that is also the company's largest.
Abbie Fenton-Park will be the store's retail manager. Other than Abbie, who transferred from the Round Rock location, all the employees at Cedar Park are new hires. Discount Electronics hired 7 new employees including sales people and a technician for this store.
Like all the other Discount Electronics locations, besides the retail parts counter at Wall Street, this store will offer repair as well as sales. The chain now sells Apple as well as Dell and repairs everything from laptops to Android tablets to iPhones.
The new store can be found at 604 N. Bell Blvd in Cedar Park, next door to the brand new H20 Car Wash. They opened on November 17th. The original opening was scheduled for October 1st but Culleton, the company's CEO says 'It took months just to get a building permit from the city of Cedar Park. This was the most delayed and most over budget store I have ever opened.'
The store is expected to generate a little over a million dollars a year making it the smallest Austin area store but larger than some of the San Antonio locations. 'Our customers have been asking for a Cedar Park store for many years. We tried once before in Lakeline Mall but it just didn't work.' Rick Culleton stated. 'I think this will be here for a long time to come.
The company purchased the building in a joint transaction with the owners of H20 Car Wash earlier this year. DiscountElectronics.com is privately held and incorporated as First E-Commerce, Inc. Discount Electronics was founded by Rick Culleton in 1997 and now employs 125 people in Central Texas.