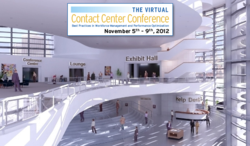 "This is the largest virtual event we have presented to date," said Sheri Greenhaus, Managing Partner of CRMXchange.
Montvale, NJ (PRWEB) November 26, 2012
Cyber M@rketing Services (CRMXchange), and The Society of Workforce Planning Professionals (SWPP) experienced a 12% rise in attendance as they hosted their 5th Annual Contact Center Virtual Conference - "Best Practices in Workforce Management and Performance Optimization". The Conference, which featured presentations by leading authorities on critical issues that confront contact center managers every day, took place from November 5th-9th. The fully interactive event enables all customer care professionals within an organization to participate, a benefit that would be unrealistic in on-site conferences.
Over 1,600 attendees from 80 nations took part in the event, up from 1,400 in 2011, encompassing a diverse range of industries including financial services, insurance, health care, transportation, technology and others. Live conference sessions drew 500 – 1000 registrants as interest ran high in sessions focused on such vital areas as the building a customer centric culture, forecasting and scheduling, and tips for managing the contact center.
Post-conference survey comments from the registrants were overwhelmingly favorable. Attendees were enthused with the accessibility, content and networking opportunities of the virtual conference and 98% of respondents rated the overall event as "good to excellent." They appreciated that all conference sessions were free and that no travel was involved so everyone from their group could attend and share in the information presented. Participants were also pleased that that all slide decks were available prior to the live sessions and that session recordings were posted quickly on the conference site and remain available for up to 14 days after the close of the event.
"This is the largest virtual event we have presented to date," said Sheri Greenhaus, Managing Partner of CRMXchange. "The exhibit hall, which gives solution providers an opportunity to present their 'story' by displaying their white papers, case studies, brochures and videos was also extremely successful. On average, each vendor had more than 185 visitors stop at their booth during the event."
About Virtual Conferences
CRMXchange produces three virtual conferences each year: Multi-Channel in March, Quality Assurance and Speech Analytics in June, and Workforce Management and Performance Optimization in November. New for 2013 is a September Awards conference called "CRMXcellence!" honoring Best Practices in nine vital categories.
About CRMXchange
CRMXchange is the premiere destination for information on relationship management solutions, including: customer interaction best practices, CRM programs, training, and other valuable industry resources. For more information about upcoming virtual conferences, visit http://www.CRMXchange.com, http://www.ecrmevents.com, or contact Sheri Greenhaus at (201) 505-1743