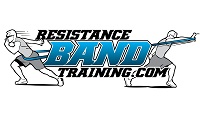 Elizabethtown, KY (PRWEB) November 21, 2012
Resistance band workout expert Dave "The Band Man" Schmitz has just contributed a module to Complete Athlete Development 2.0, a new product released through the International Youth Conditioning Association. The new product is available now.
Known to many simply as "The Band Man," Schmitz founded Resistance Band Training Systems, LLC. Since that time, he has worked extensively to develop resistance band workouts as a way to train young athletes to improve their athleticism.
"I used to do rehab with young kids when I was a physical therapist over 20 years ago," the band workout expert notes. "After some time, I realized that not only are exercise bands good for preventing and overcoming injury, but they actually boost kids' athletic performance."
Currently, Schmitz works with high school athletes, consults with a college football program, and continues to teach children about exercise band workouts on his website and at live events. Given his devotion to training kids, partnering with the IYCA on Complete Athlete Development was a "no-brainer."
"What Complete Athlete Development 2.0 offers is an extensive education in all of the major concepts in youth fitness today," IYCA co-owner Nick Berry says. "That's why it was so important for us to join up with the world's foremost resistance band expert."
With decades of resistance band training experience, Dave Schmitz was recently named one of the 100 Most Influential People in Health & Fitness. His company, Resistance Band Training Systems, provides cutting edge band workouts for both youth and adults.
"All young athletes benefit from resistance band training," Schmitz says. "Resistance band workouts are safe, fun, and effective. Best of all, anybody can do them. I have worked with children, teenagers, and athletes of all levels of development, and they all get great results."
In addition to the contributions of Dave Schmitz, the world-renowned resistance band workout expert, the new product is composed of 12 distinct modules led by the world's leading experts in youth fitness.
The modules range in content from assessment and corrective work with Bill Hartman to mobility training with Mike Robertson of Indianapolis Fitness and Sports Training. Dave Schmitz's contribution, of course, focuses on the benefits of resistance band training.
"Naturally, I believe that resistance band workouts are a great tool for training kids, but Complete Athlete Development 2.0 covers a wide range of important topics in youth fitness," Schmitz says.
Such topics include modules on power training, speed training, conditioning, nutrition, team play, young athlete development, and kettlebell training for kids.
In addition to the wide-ranging modules available on 14 DVDs, Complete Athlete Development also includes a 228 page manual containing insights from the industry's top youth fitness specialists, over 100 ready to use programs, and a syllabus with suggested assignments.
"Band workouts have been shown to improve children as athletes in a safe, effective way," Schmitz says. "Yet even beyond my module on bands, this product is a great one-stop place to become a great youth trainer in all aspects."
Complete Athlete Development 2.0 is on sale today. Through November 25th at Midnight, the product is available for $199.95, a $100 discount off the retail price.
For more information on Complete Athlete Development, visit: http://completeathletedevelopment.com/
About Dave Schmitz: Dave Schmitz is the Co-Owner of Resistance Band Training Systems, LLC and the creator of http://www.resistancebandtraining.com, the only website exclusively devoted to training with large continuously looped resistance bands.
Resistance Band Training Systems, LLC is part of the Fitness Consulting Group family of companies. It is the leading resource for resistance band training. RBT offers education on resistance band training, hosts live events, and offers a training certification and other products.
####