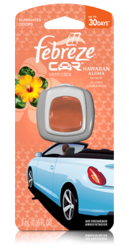 Los Angeles, Ca (PRWEB) November 21, 2012
Pronto Sales, long-time established wholesale car wash supplier, has recently added new products to its extensive inventory and will continue to offer free shipping on purchases of one hundred dollar or more throughout the holiday season.
The wholesaler's custom designed online store has already seen a vast amount of traffic since its launch in early fall. The new additions and continued savings are just in time for the influx of online shopping that begins in mid-November and lasts through December.
Created over twenty years ago by automotive professionals, Pronto Sales developed a keen eye for quality products. They have since been committed to bringing their customers an array of proven items at some of the lowest prices in the industry.
Febreze, trusted name in household odor elimination, is now available for car interiors. Pronto Sales now offers Febreze Car Vent Air Fresheners in a variety of scents including Linen, Thai Dragon, Hawaiian Aloha, Meadows and Rain, and Midnight Storm. These lasting vent fresheners ensure 30 days of fine fragrance inside any vehicle and are conveniently available in four unit packs. Stocking a car wash or dealership lobby with reliable brand name products, especially before the holiday rush, makes decisions easier for stressed out shoppers.
With the holidays in full force, Pronto Sales continues to be stock its warehouses with a wide selection of wholesale car wash accessories at extremely low prices. In preparation for Black Friday and Cyber Monday, the wholesaler is offering free shipping on all orders over on hundred dollars or more. Pronto's multi-shipping locations, allow for fast and accurate shipping making for worry free shopping.
Customer favorites like Little Tree paper air fresheners, K29, Armor All, Ozium, and Impulse Merchandisers are also ready for expedite delivery. Pronto Sales' attentive customer service experts are ready and available for any questions or concerns. The company is already off to a great start this season and the New Year is also projected to bring in notable business and sales.
For More Information: http://www.prontosales.net