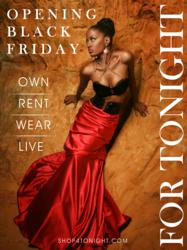 Minneapolis, MN (PRWEB) November 21, 2012
For Tonight, a concept that provides high-end designer dress rentals and fashions for purchase in Minneapolis, announced its opening on Friday, November 23, 2012. From date nights and corporate events to galas, proms and weddings, the new boutique allows clients to rent designer dresses for any occasion or to purchase the current trends.
"For Tonight rents dresses from top designers, such as BCBG, Basix Black Label, Black Halo and and more," said Dan Vargas, co-owner of For Tonight. "We also sell great designer fashion! If you need an amazing dress for a wedding, holiday party or new years, come by the shop and let our personal stylist help you choose the best style for your body, women need and want to try dresses on before they purchase or rent and that's what makes us different than online concepts."
In celebration of the launch of the new For Tonight, the owners are currently offering several specials and discounts. Clients can sign up to receive updates and information from the boutique via email and receive 25% off their first rental. In addition, the shop offers a special of $25 off a rental for your birthday, and special discounts when clients refer a friend. They have invested in the branding by hiring Julian Murray as the lead photographer. Mr. Vargas says his plan is to create a buzz around the branding that promises to grab peoples attention.
"For Tonight's staff of knowledgeable consultants is ready to help you choose the right look for events or any occasion, all the way down to accessories and makeup," said Mr. Vargas. "Luxury has never been easier or more affordable!"
In addition to high-end dress rentals, For Tonight also sells high quality denim, dresses, tops and accessories for both men and women, and also hosts private shopping parties. For complete information about all For Tonight apparel and designer dress rental services, visit their new website at http://www.shop4tonight.com.
About the company:
For Tonight is a specialty fashion boutique that offers a curated selection of designer outfits, dresses, and accessories. A visit to For Tonight affords a customer the most current men's and women's fashions, with the personal attention of a highly trained and educated wardrobe consultant; all at a fraction of the cost, compared to purchasing the garment outright. For more information, please visit their website at http://www.shop4tonight.com.