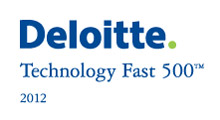 Seattle, WA (PRWEB) November 26, 2012
Sesame Communications today announced it ranked 357th on Deloitte's Technology Fast 500™, a ranking of the 500 fastest growing technology, media, telecommunications, life sciences and clean technology companies in North America. Sesame Communications grew 214 percent during this period.
Sesame Communication's chief executive officer, Diana P. Friedman, credits the company's revenue growth with an organization-wide focus on quality of services and dental Member experience, along with significant investment in technology and R&D. Friedman said, "The Sesame team proudly numbers more than 100 professional, entrepreneurial employees who continue to drive innovation and excellence across all functional areas. With the launch of the integrated Sesame 24-7 cloud-based solution, we now have the platform to deliver and document incredible ROI for our Members. The platform seamlessly integrates the practices' web and mobile sites, social media channels, SEO, online marketing campaigns, patient portal, and automated reminder offerings into a comprehensive analytics dashboard."
"We are proud to honor the 2012 Technology Fast 500™ companies, and commend them for their outstanding growth," said Eric Openshaw, vice chairman, Deloitte LLP and U.S. technology, media and telecommunications (TMT) leader. "These ground-breaking companies have outpaced their competition and are reinventing the way we do business today."
"The companies on the Fast 500 list are among those that have demonstrated remarkable innovation, creativity and business savvy," said Bill Ribaudo partner, Deloitte & Touche LLP and national TMT leader for audit and enterprise risk services (AERS). "As a result, these companies have continued to successfully forge ahead in a challenging economic environment. We applaud the leadership and employees of Sesame Communications for this impressive accomplishment."
About Deloitte's 2012 Technology Fast 500™
Technology Fast 500, conducted by Deloitte & Touche LLP, provides a ranking of the fastest growing technology, media, telecommunications, life sciences and clean technology companies – both public and private - in North America. Technology Fast 500 award winners are selected based on percentage fiscal year revenue growth from 2007 to 2011. In order to be eligible for Technology Fast 500 recognition, companies must own proprietary intellectual property or technology that is sold to customers in products that contribute to a majority of the company's operating revenues. Companies must have base-year operating revenues of at least $50,000 USD or CD, and current-year operating revenues of at least $5 million USD or CD. Additionally, companies must be in business for a minimum of five years, and be headquartered within North America.
About Sesame Communications:
Sesame Communications is the leading provider of cloud-based patient communication systems for the dental industry with more than six million patients regularly communicating with providers via Sesame services. Sesame continues to build on its category leadership position by expanding its team and service offerings through extensive market research and industry needs assessment. An Inc. 500|5000 and Deloitte Technology Fast 500™ company, Sesame is recognized as one of the fastest growing technology companies in the United States. Sesame is also the proud recipient of numerous awards and accolades, including being a two-time winner of both the Pride Institute Best-of-Class and the 100 Fastest Growing Companies by Puget Sound Business Journal. For more information about Sesame, visit http://www.sesamecommunications.com or call 877.633.5193.