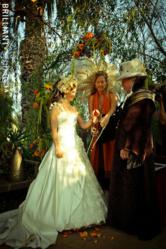 "The Fire Garden is a treasure and perfect for anyone who wants their event to be a little different, and a lot of awesome." ~ Kelly & Lars
Bonsall, CA (PRWEB) November 27, 2012
The Fire Garden is proud to announce the purchase of their Digital Baby Grand Piano, available as an option for weddings in 2013. The Fire Garden offers what is without question one of the most artistic, original venues in Southern California for weddings and events. The addition of the baby grand also paves the way for "A Concert in The Garden", the new concert series being planned for The Fire Garden in 2013. The first "Concert in the Garden" was held in October featuring concert pianist Jeremy Weinglass.
The piano is a top of the line Kohler KD140 with state of the art electronics and sound system built in to the casing. As an incentive to book early, brides who reserve the garden for their wedding before Jan 1 will have the option of using the piano at no extra cost. Afterward a rental fee will apply.
The property serves as the workshop and studio for metalsmith Tony D'Aula whose creations decorate and light up the grounds with fire sculptures and propane powered chandeliers hanging from old growth trees, artistic installations and comfortable lounge spaces invite the guest to explore and relax in a natural setting.
"The combination of the beautiful, natural landscape and my fire sculptures and artwork create an ambiance that no other venue is able to offer," says the owner of The Fire Garden, Tony D'Aula.
Tonys artwork has been shown at local art galleries and his fire sculptures and chandeliers have been rented for events in Rancho Santa Fe and Bel Air as well as for sale to private collectors. The property is very flexible and lends itself to many themes from Hawaiian to Victorian. There's enough room for sit down dinner for 250 guests with a separate area set aside for ceremony. Events can last for 12 hours and the property is available to rent for a whole weekend
The Fire Garden allows for outside vendors to supply what brides need or can provide a list of vendors who have worked at the venue in the past.
To make an appointment to view the property contact The Fire Garden directly or see their website at http://www.firegardenevents.com