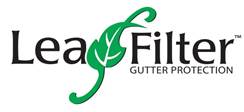 Hudson, OH (PRWEB) November 22, 2012
LeafFilter™ North, Inc., the nation's leading gutter protection company, is offering consumers a massive sale worth $300 off a new install that begins on 'Cyber Monday' and extends throughout the week. With the special Cyber Monday savings, consumers will be able to rest easy and enjoy the holiday with family.
LeafFilter™ is offering its biggest sale of the year with $300 off the nation's leading gutter protection system to help customers protect their home against costly damage caused by clogged gutters. Cyber Monday is just the beginning of the savings, as the sales event runs throughout the entire week.
The nation's leading gutter protection company is giving out the biggest savings of the year with the additional discount to consumers throughout the last week in November. The Cyber Sale Deal begins Monday, November 26th and runs through Saturday, December 1st.
Consumers simply have to fill out the form at http://www.leaffilter.com to receive the $300 off coupon. This deal is only good throughout the week, as customers must schedule and receive a free, no-obligation estimate before Saturday, December 1st to receive $300 off Gutter Protection Perfection™. Stipulations also include a 100 ft. minimum install and the customer must present the $300 coupon during the time of estimate.
LeafFilter™ is the nation's top-rated gutter protection system and is guaranteed to keep gutters clog free. The LeafFilter™ gutter protection system utilizes surgical-grade, stainless steel micromesh protection that is completely sealed shut, allowing only water into the gutter system.
LeafFilter™ was recently selected to appear high on the 2012 Qualified Remodeler Magazine Top 500 list. LeafFilter™ ranked 27th on the list and was the top-ranked gutter protection company within the Top 500 and also finished as the youngest company within the Top 30. LeafFilter™ also garnered national recognition when the company was named to the prestigious Inc. Magazine annual Inc. 500|5000 list, the most elite ranking of the nation's fastest-growing private companies. LeafFilter™ was the top-ranked gutter protection company in the nation and finished in the top 16 percent. LeafFilter™ was also recently designated a Weatherhead 100 winner.
About LeafFilter North, Inc.
LeafFilter is the #1 rated gutter guard system by two leading consumer publications. LeafFilter's design features a surgical-grade, stainless steel micromesh gutter protection system. The openings within the stainless steel micromesh are specifically sized so that only water is channeled into the gutters. Leaffilter North, Inc. has installed more than 10 million feet of gutter protection on homes throughout the United States. For more information about http://www.LeafFilter.com gutter guards, visit LeafFilter.com or call (800) 290-6106.
###