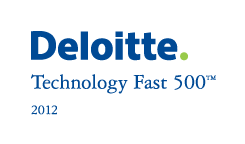 Atlanta, GA (PRWEB) November 26, 2012
PrimeRevenue Inc., the leading SaaS platform for global Supply Chain Finance (SCF), today announced it ranked 458 on Deloitte's Technology Fast 500™, a ranking of the 500 fastest growing technology, media, telecommunications, life sciences and clean technology companies in North America. PrimeRevenue grew 150% percent during this period.
PrimeRevenue's chief executive officer, PJ Bain, credits the success of PrimeRevenue's value-add SCF services, and also the introduction of the OpenSCi™ SCF system, the leading, global, multi-bank, multi-currency SCF platform delivered on the Cloud, with the company's 150% revenue growth. "Being selected as one of the Fastest Growing Companies in North America on Deloitte's 2012 Technology Fast 500 list is a great honor," said PJ Bain, PrimeRevenue CEO. "Our customizable SCF solution delivers on-demand low cost financing to over 10,000 worldwide suppliers, allowing our clients to improve working capital while reducing costs and risk in their supply chains. We are very proud to be acknowledged as a leading growth company serving the world's largest supply chains, and look forward to continued growth and expansion of our market," concluded Bain.
"We are proud to honor the 2012 Technology Fast 500™ companies, and commend them for their outstanding growth," said Eric Openshaw, vice chairman, Deloitte LLP and U.S. technology, media and telecommunications (TMT) leader. "These ground-breaking companies have outpaced their competition and are reinventing the way we do business today."
"The companies on the Fast 500 list are among those that have demonstrated remarkable innovation, creativity and business savvy," said Bill Ribaudo partner, Deloitte & Touche LLP and national TMT leader for audit and enterprise risk services (AERS). "As a result, these companies have continued to successfully forge ahead in a challenging economic environment. We applaud the leadership and employees of PrimeRevenue, Inc. for this impressive accomplishment."
About Deloitte's 2012 Technology Fast 500™
Technology Fast 500, conducted by Deloitte & Touche LLP, provides a ranking of the fastest growing technology, media, telecommunications, life sciences and clean technology companies – both public and private - in North America. Technology Fast 500 award winners are selected based on percentage fiscal year revenue growth from 2007 to 2011.
In order to be eligible for Technology Fast 500 recognition, companies must own proprietary intellectual property or technology that is sold to customers in products that contribute to a majority of the company's operating revenues. Companies must have base-year operating revenues of at least $50,000 USD or CD, and current-year operating revenues of at least $5 million USD or CD. Additionally, companies must be in business for a minimum of five years, and be headquartered within North America.
About PrimeRevenue, Inc.
For Global 2000 organizations who view their supply chains as a strategic asset and are seeking to increase supply chain efficiency, PrimeRevenue is the leading provider of multi-bank Supply Chain Finance (SCF) technology and services. The PrimeRevenue OpenSCi™ platform and working capital advisory services provide these organizations with the control and flexibility required to drive superior SCF results, reducing cost and capital risk throughout their supply chains and forging stronger supplier relationships. Headquartered in Atlanta, Georgia, USA, PrimeRevenue also has offices in London, Paris, Frankfurt and Prague in Europe, as well as in Melbourne, Australia, and Hong Kong, Hong Kong SAR, and operates some of the largest SCF programs for customers around the globe. For more information, visit http://www.primerevenue.com