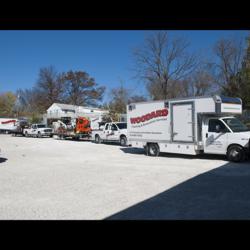 "It is almost impossible to train to enter a disaster zone like this–we are prepared for the mitigation work, but we have to learn, adapt and be flexible. The best training we have is on disaster sites, every day."
St. Louis, MO (PRWEB) November 30, 2012
As much of the country's east coast is crippled by the destruction of hurricane Sandy, Woodard Cleaning and Restoration deployed emergency service vehicles to aid in the rebuild, cleanup and eventual return to normalcy for affected residents. The results of the event have been described as an incredible disaster.The Woodard team deployed to the east coast on Wednesday, October 31st determined to help in the any way possible the individuals affected by the storm. Twelve team members comprised a caravan of 2, 48' semi trailers, two pickup trucks, a bobcat, two box trucks and two support vehicles. These trucks and trailers also included flood pumping and debris removal equipment, extraction tools, drying equipment, cleaning supplies and other provisions. The team focused its efforts in Long Beach, a barrier island on Long Island's Atlantic side.
Woodard relies on a large operations team based in Saint Louis to support the travelling crews. Preparation had to come together quickly and these types of initiatives require the dedication of every team member. Logistics are coordinated amongst the operations staff, from research, maps and directions, flights, lodging, fuel, additional equipment rental (namely generators), and coordinating with partner organizations. The operations staff also coordinates moving the trailers, loading and inspecting vehicles, testing the equipment and coordinating the deployment team. With such widespread havoc on the east coast, the logistics behind Hurricane Sandy restoration are more complicated than a typical day at the office, especially since even the basic necessities like fuel and batteries were impossible to come by. Even paying for meals was a challenge, as outlets were only accepting cash due to power outage and downed telephone and internet lines.
As Justin Woodard planned to deploy his team, he noted, "It is almost impossible to train to enter a disaster zone like this–we are prepared for the mitigation work, but we have to learn, adapt and be flexible. The best training we have is on disaster sites, every day."
In terms of hurricane damage, professional restoration services are trained to thoroughly address the water damages in an effort to prevent further damage and future health concerns. Standing water is considered "grossly unsanitary" in the restoration industry and acting quickly to remove water from flooded spaces is crucial in the mitigation of damaged spaces. While Woodard agreed that water removal from Hurricane Sandy was their immediate first step, there came with it significant challenges.In addition to large amounts of water in these spaces, the ocean from Hurricane Sandy brought in tons of sand, furthering the extent of the damage. Additionally, this water contains dissolved organisms such as mud, fertilizers, insecticides, feces, household chemicals, fuel, solvents and other dangerous elements. In the presence of such moisture penetration within homes, bacterial growth is always of chief concern.Cold and freezing weather conditions in many areas affected by Hurricane Sandy have slowed microbial growth to some degree, which has allowed many clean-up crews a bit more time to prepare and respond appropriately without the threat of rapid bacterial growth that can occur in very warm weather conditions, which causes further significant damage.
After the water is extracted, the next step is the removal of all walls, flooring and in many cases ceilings. Crews then dry out the studs and any remaining structural elements. Reconstruction will be handled by contractors all along the coast.
Simply removing the water and impacted structural elements does not remedy the issues that remain. Mold spores are nearly everywhere in situations that have been ravaged by storm and flooding. They grow quickly and spread without always being visible to the naked eye. To reduce potential for microbial growth, appropriate drying processes should be handled professionally. Sanitizing the space is critical to make it safe for its inhabitants. Woodard professionals are equipped to properly dry these damaged spaces and ensure that any moisture sources behind walls or under floorboards is measured, monitored and treated for proper restoration. If the building does have some structural integrity post-storm with elements inside that can be restored, lack of sufficient drying can lead to warped floors and eventual rebuilding needs.
We understand that the recovery efforts from Hurricane Sandy will continue for many weeks and months. Woodard is proud to have teams on the scene to help in as many ways possible. With any storm destruction that you may experience, Woodard's restoration crews are standing by, ready to assist. You can reach us 24/7 at 314-227-3929, or visit our website at http://www.woodard247.com.