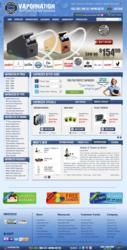 "The new website has added features and more helpful information that will make it easier than ever to find the perfect vaporizer for your needs."
Marina Del Rey, CA (PRWEB) November 23, 2012
VaporNation, an online vaporizer superstore, is proud to announce the re-launch of their website with new features, added information and a more enjoyable shopping experience. The new website has a re-designed top navigation system that makes it easier for finding vaporizers and vaporizer parts. The all new Vaporizer Buying Guide helps first-time buyers find the right vaporizer that fits their needs and budget.
The new VaporNation.com website makes it easier to find the vaporizer you're looking for by introducing a top navigation system that displays every major brand. This includes Volcano, Iolite, Arizer, Vapir, VaporBrothers, Puffit, Magic Flight and Hot Box. The new navigation layout also separates the vaporizers by different types; portable, oil vaporizers, whip-style, forced-air, digital and discount vapes. The Vaporizer Parts section has also been revamped and re-organized to make the finding of parts and accessories much easier.
The new website also features a Vaporizer Buying Guide for consumers who are inexperienced or new to vaporizers. This buying guide allows customers to pick which key features are important to them, then the guide spits out a list of possible vaporizers that would fit their needs. The customer can pick between a portable vaporizer or desktop vaporizer, then pick between a digital or non-digital unit, and then finally choose the delivery method or battery system.
Another feature of the new website allows customers to perform side-by-side comparisons of any vaporizer. This is very helpful when a customer is having a difficult time deciding between two or more vaporizers. A more thorough and updated Review Section was also added to the website and allows for customers to leave helpful and informative reviews about the different vaporizers. The Questions and Answers Section is another new section where customers can ask questions about the products and received detailed answers.
A 24 Hour Live Chat System was also included with the re-launch and provides helpful support for any customers needing assistance with their vaporizer. A knowledgeable Customer Service Representative is always standing by to answer any questions or fix issues with a pending order. To make sure that all customer issues are dealt with promptly and efficiently, a new Ticket System was implemented where customers can submit a ticket for any issue or question they might have.
The new VaporNation.com website should make the shopping experience much easier and more informative for the customer. Customers should be able to navigate within the site with ease and find any vaporizer or vaporizer parts within seconds. New features on the website, like the Buying Guide and Side-by-Side Comparisons, should help inexperienced or first-time buyers with many of the purchasing questions.
Distributing vaporizers throughout the United States and across the world, Vapor Nation has established a name brand that is distinguished and recognizable in the Vaporizer Community. With an extensive product line that consists of over fifty different vaporizers, the Vapor Nation staff continues to take pride itself in taking care of each individual customer, personally reviewing every order, shipping on-time and providing exceptional post-sale customer support. Customers can shop with confidence knowing that there is a proud and knowledgeable staff on the other end working to ensure their complete satisfaction. More information can be found at http://www.vapornation.com.