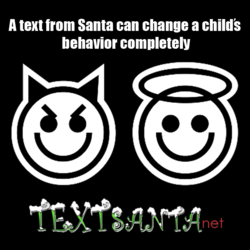 It's amazing what 160 characters from Santa Claus can do to motivate a child!
St. Louis, MO (PRWEB) November 30, 2012
Webcorp, Inc. dba TextSanta.net offers an amazing gift to parents and children alike--receiving text messages from Santa Claus. Webcorp's CEO TJ Kirgin created Text Santa in 2008. Getting a personalized text message from Santa is exciting for a child. Many parents are using Text Santa as a way to guide their children's behavior while adding to the magic of Christmas as well as helping solidify belief. Common texts from Santa encourage behaviors such as: telling the truth, doing well in school, and listening to parents or teachers. Other popular texts from Santa include reminders from Santa on Christmas Eve to get to bed and text messages on Christmas morning reminding them to stay on the good list during the next year. Parents have the option to choose from two different packages which are the Quick Text and Gold Package which start at $4.79 and $6.59, respectively at http://www.textsanta.net.
To make things a little more magical for the little ones, parents may upload a picture of their mantle or Christmas tree to TextSanta.net and Elves take care of the rest. The child will receive a picture of Santa standing right in the living room or in front of the Christmas tree.
With every child that has a text message purchased for them $1 is donated to Child Safe ambassadors. ChildSafe Ambassadors is the gathering of a host of Pro Athletes, High-Profile Individuals, and concerned citizens coming together to take action against the growing epidemic of Cyber Bullying, Sexting, and Sex Predators through a ChildSafe Online Dashboard. The goal of ChildSafe Ambassadors is to stand up, step forward, speak out, and help parents, educators, and schools keep children safe in the digital world –a world where children are committing suicide or / are kidnapped without warning!
"My children loved their text messages from Santa! Their jaws hit the ground when I freaked out and said 'Santa sent me a TEXT!' Even my 12 year old was stumped as to how it happened! They could not believe it! Thank you TextSanta.net for your continued support of our wonderful children," said Chris Bilodeau a TextSanta user.
About Webcorp, Inc.
Webcorp is a web hosting company located in St. Charles, Missouri near St. Louis and hosts websites across the U.S.A, Canada, South America and Europe.
For more information, please contact Webcorp at 636.946.9800.