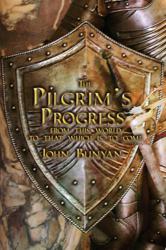 (PRWEB) November 21, 2012
Athanatos Christian Ministries is proud to bring John Bunyan's timeless classic of spiritual journey to a new generation of Christians through the release of The Pilgrim's Progress, which is available in both hard and soft cover editions as well as an ebook version. All three editions contain classic illustrations and an index of Bible references used by Bunyan that ACM carefully generated.
The Pilgrim's Progress was first published in 1678 and quickly became one of the most important pieces of religious literature. The fact that Bunyan's work has never been out of print made it a natural fit for ACM to release in their catalog. ACM is an apologetics ministry with an emphasis on defending the faith through the arts and literature and The Pilgrim's Progress has influenced a significant amount of writers, both Christian and secular, and will continue to play an important role in defending the faith for many years to come.
The book is available on Amazon, Kindle and other online outlets. The release is also available directly from the publisher. To see the full catalog of classic reprints and contemporary releases from Athanatos Christian Ministries, visit their website.
About ACM:
Athanatos Christian Ministries, an apologetics ministry with an emphasis on defending the Faith through the arts and literature since its founding in 2008. ACM's purpose is to apply the Christian world view in creative contexts that range from Christian apologetics to education to literature and the arts and anything else it can imagine to edify the church. ACM has a significant emphasis on the arts and literature because it perceives that the culture has extraordinary influence on faith formation; usually a negative influence. For this reason ACM encourages Christians to participate in the culture in meaningful ways with works of art that exhibit excellence.