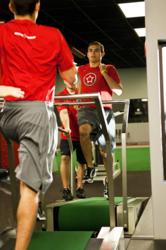 Park City, Utah (PRWEB) November 26, 2012
Athletic Republic, a national network of training centers, has helped over 800,000 athletes improve their performance over the last 22 years. With that experience Athletic Republic knows that athletes can be a challenging bunch when it comes to holiday gifts. Based on what athletes have said this year, the following is our suggested 2012 top 10-gift list that will likely satisfy everyone from the Junior High School athlete to the Weekend Warrior:
1. Pearl Izumi Elite Thermal Long Sleeve Jersey–The Elite Thermal LS Jersey is Ideal for early spring or late fall runs or rides when you want constant warmth throughout your workout. The Elite Thermal Fleece fabric provides superior moisture transfer and warmth. For more information go to http://www.pearlizumi.com.
2. ASICS GEL-Cumulus 14 Running Shoe - Runners will love the technical updates to this popular model that improve both the upper foot comfort on an exceptionally cushioned ride, all while reducing weight by a half ounce. For more information go to the Asics America website.
3. Gatorade Towel – It's time to leave your old hand towel at home. Look like a pro while working out or taking a break with the Gatorade towel that measures 22.5" X 44". For more information go to http://www.gatorade.com.
4. Garmin Forerunner 910XT – Athletes obsess over data and details. Whether they run, swim or bike, the Garmin Forerunner 910XT is an all-in-one GPS-enabled device that provides detailed swim metrics, track distance, pace, elevation and heart rate for athletes in a comfortable, sleek profile design with an easy-to-read display.
5. Warm-Up Cords – For athletes who participate in any sport that involves throwing, a warm-up cord is the ultimate tool to strengthen and loosen critical throwing muscles, reduce warm-up time, and reinforce correct mechanics. For more information and to purchase online go to http://www.warmupcord.com.
6. Personal Training – Speed, power and agility make a perfect holiday gift. Athletic Republic sport-specific training programs will give your athlete a step up on the competition in the New Year. To find the Athletic Republic location near you go to http://www.athleticrepublic.com.
7. NFL Slippers – After a big work out these slippers are the perfect way to sit back in comfort and watch the big game. Slippers are extremely soft with a non-skid sole and come in your favorite team's colors with embroidered logo. Go to the nflshop.com to find out more.
8. Bags & Backpacks – Athletes can always use the right bag to tote their gear to the training center, sports venue or other destination. They come in a variety of shapes and sizes with many being sport specific. To see a great selection go to http://www.eastbay.com.
9. FIFA 13 – Video Game – If your athlete is a soccer fan or video game fanatic, check out FIFA 13, which is the best selling sports video game so far in 2012. If captures the drama and unpredictability of real-world soccer and is driven by five game-changing innovations that revolutionize dribbling, ball control and physical play. For more information go to http://www.ea.com/fifa-soccer-13.
10. NCAA Basketball Tournament – A great gift are tickets to a sporting event. Consider the NCAA Basketball Tournament where you can choose a regional tournament or attend the 2013 national championship in Atlanta for the men or New Orleans for the woman. For more information go to the NCAA website.
About Athletic Republic: Athletic Republic is the nation's leading franchisor of evidence-based performance sports training centers. Over 800,000 athletes have taken advantage of its individualized, sport-specific training programs to enhance their speed, power and agility to gain more than just a step on their competition. More information regarding Athletic Republic can be found at http://www.AthleticRepublic.com.