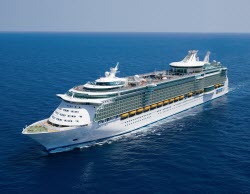 Wilmington, Mass. (PRWEB) November 23, 2012
Bargain hunters wanting to avoid the Black Friday crowds can take advantage of CruisesOnly, America's Largest Cruise Agency, Black Friday cruise deals from Nov. 23-26, 2012.
CruisesOnly's Black Friday cruise deals include no deposit required* at the time of booking, up to $300 earn back in onboard spending, Kids-Sail-Free deals and much more.
The most enticing part of the Black Friday cruise deals is the no deposit required at the time of booking because it allows consumers to book a 2013 cruise today without putting any money down, which is a great reprieve during the holiday shopping season. Add it to the deeply-discounted cruise deals being offered by the cruise lines and it is a deal people won't want to pass up.
Also during this time, the lowest prices of the year are being offered on 2012 Royal Caribbean sailings. Consumers can cash in on exclusive pre-paid gratuity offers on last-minute Royal Caribbean sailings when booking through CruisesOnly.
With travel deals like this, shoppers can avoid the large crowds while giving family one of the greatest gifts — the gifts of travel and making memories that will last a lifetime. To take advantage of CruisesOnly Black Friday – Cyber Monday Deals, visit CruisesOnly.com or call 1-866-552-1243 (see website for Terms and Conditions).
*For a limited time only, pay no deposit at time of booking on any reservation made 110 days or more prior to your cruise's departure. This unique promotion will cover up to $500, so it's no surprise it will only be available for a short while! The original amount of the deposit must be paid at least 10 days before final payment is due; please note that select cruise lines are not eligible for this promotion.
###
About CruisesOnly
CruisesOnly, America's Largest Cruise Agency, is the premier cruise brand of World Travel Holdings. World Travel Holdings (WTH) is the world's leading cruise agency and award-winning leisure travel company with a portfolio of more than 30 diverse brands. In addition to owning some of the largest brands distributing cruises, villas, hotels and luxury travel services, WTH has a vast portfolio of licensed private label partnerships comprised of top leisure travel providers, almost every U.S. airline, leading hotel brands and prominent corporations. The company's home-based division operates a top-rated travel agency franchise and the country's original host agency. Its global presence in the United Kingdom includes operating two cruise agencies and multiple private-label brands. WTH has offices in Long Island, NY, Wilmington, Mass., Ft. Lauderdale and Orlando, Fla., Virginia Beach, Va., and Chorley, United Kingdom. For more information, visit WorldTravelHoldings.com.