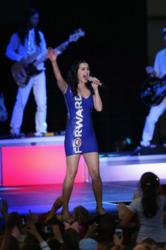 Los Angeles, CA (PRWEB) November 22, 2012
While studying Fashion Design at FIDM/Fashion Institute of Design & Merchandising, Abigail Greydanus discovered latex and became fascinated by its unconventional use as a material. Since then, the costume designer has taken latex to the next level with unique looks for stars such as Rihanna, Lady Gaga, Kat Graham, Sofia Vergara, Carmen Electra, and more.
The week prior to President Obama's re-election, Katy Perry donned a one-of-a-kind cobalt blue dress, designed by Greydanus, at a campaign rally in Milwaukee. The curve-hugging dress was emblazoned with the President's "Forward" slogan. She has designed latex costumes for Perry and her dancers in the past, such as the "Human Ballot" dress the singer wore at a Nevada rally, and for the 2012 Grammy Awards. But you don't have to be a celebrity to wear one of Greydanus' garments. The L.A.-based designer encourages custom orders and can contacted through her website.
Her always-changing collection includes costumes, dresses, lingerie, swimwear, and accessories. Greydanus says that she is inspired by Art Deco, classic films, architecture, photography, and fashion books. Greydanus says that people are often intimidated by latex, thinking that it is only for supermodel body types. "In reality it looks amazing on everyone," she has said. "It has an amazing tendency to actually suck in and smooth out most people's bodies."
FIDM/Fashion Institute of Design & Merchandising is a co-educational, specialized, private college dedicated to educating students for the Fashion, Graphics, Interior Design, and Entertainment industries. Known as a one of the top fashion design schools, FIDM is also a leading graphic design school and interior design school. Visit fidm.edu for more information.