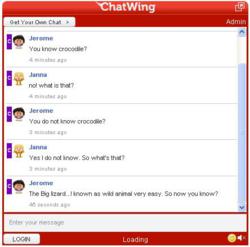 Houston, TX (PRWEB) November 23, 2012
For people who are relying on website chat day by day, spontaneity can become a strong driving factor. The Chatwing Development Team has taken this factor into consideration and used it as a basis for the release of its new chat widget. The Chatwing chat tool empowers spontaneous chatting by giving users a clear communication advantage in the chatroom. Admins, on the other hand, will now gain wide customization options and full conversation control.
Chatwing admins will be able to design their chat box with relative ease. The latest dashboard of the Chatwing app can be accessed easily, and certain features can be changed in just few clicks. Now, admins can change the border color of the free chat box and they can also embed background images. Any background image will do, and Chatwing even offers a collection of background images to choose from. These simple customization options have benefited thousands of users, raising the overall effectiveness of the Chatwing tool.
Chatwing's visitors can also log in with their Facebook or Twitter accounts. This is for better global connection, allowing visitors to widen their social networks in just few clicks. Now, people with the same interests can communicate effectively and even send out invitations to each other. Chatwing's free chatbox can also be used as a website visibility tool. Based on the observation of some website owners, the Chatwing tool can add online visibility by up to 80%, depending on the content of the website.
Chatwing's free chat widget is also friendly to developers. The tool allows a CSS customization mode wherein tech-savvy people can tinker with platform commands and modifications. According to many users, Chatwing app's CSS feature increases overall flexibility and reliability.
About Chatwing.com
Chatwing.com specializes in the new field of website chat. Over years, the Chatwing team has introduced live chat widget for hundreds and thousands of blogs. The Chatwing application bridges people from many parts of the world, creating global synergy through the Internet. The shout box can be installed in just seconds, and it can be used for varying purposes such as leisure and Internet marketing. It also allows a user to customize the size, color, and name of the widget. Chatwing is 100% free for everyone.