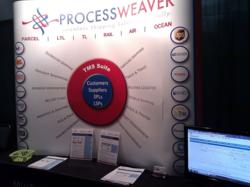 "ProcessWeaver's Multi-Carrier Shipping Solution brought a new dimension to the ASUG B1 Summit event in Dallas, TX and was very well perceived by many SAP B1 customers
(PRWEB) November 26, 2012
ProcessWeaver, Inc., a leader in providing Transportation Management Solutions exhibited at the America's SAP User's Group (ASUG) Business One Summit 2012 in Dallas, TX.
Over 500 attendees from all over country were part of the Business One community to business with new learning opportunities that SAP Business One has to offer as well as to glimpse everything from sponsors and exhibitors, Training to dig a little deeper into the solutions and to learn technology offerings of SAP Business One most prominent ISV's and business partners.
Inspirational keynote speakers, including Key Note Address #1 Finn Backer – SAP VP touched the topic on The Transformation of SAP B1 with an aggressive 2015 growth strategy. Key Note Address # 2 Lea Dvir of SAP and Oren Tabib of Pioneer B1 took us on a history lesson all about the birth, and growing pains experienced by SAP Business followed by Ruven Aggassi, founder and creator of SAP Business One.
ProcessWeaver's shipping solutions for SAP B1 are flexible and easy to use. From a single scan, shipping information is retrieved from B1, packages are weighed, rated, documents & labels printed, and B1 is automatically updated with real time freight amount and tracking number. When it comes to shipping, SAP B1 falls a bit short. SAP B1 does not offer shipping execution as part of its standard product. We call this the shipping "black hole". To fill this gap, ProcessWeaver exhibited and had a speaking session on the efficiency and accuracy of multi-carrier shipping process designed to meet the needs of any size shipper.
Amit Patel, Sales Director for ProcessWeaver, said: "ProcessWeaver's Multi-Carrier Shipping Solution brought a new dimension to the ASUG B1 Summit event in Dallas, TX and was very well perceived by many SAP B1 customers as we were able to demonstrate on how to reduce shipping expenses, simplify shipping procedures and most importantly improve accuracy and efficiency in the shipping process. It was a very successful show and feedback was very positive. We look forward for next year's ASUG B1 Summit in Anaheim, CA for yet another fantastic event."
ABOUT PROCESSWEAVER, INC.
ProcessWeaver was founded in 2005 and headquartered in Santa Clara, California with operations worldwide. ProcessWeaver specializes in providing automated multi-carrier compliance global shipping software. ProcessWeaver solutions work with multiple carriers e.g. FedEx, UPS, DHL, USPS, TNT, Purolator, LTL, TL, FTL, Ocean Freight Carriers, and Freight Forwarders. For more information about ProcessWeaver, please visit: http://www.processweaver.com or email at info(at)processweaver(dot)com or call (888) 932-8373.