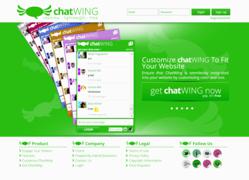 Los Angeles, CA (PRWEB) November 24, 2012
The Chatwing Team is now prepared to introduce a website chat widget loaded with useful and trendy features. One of the recent innovations of the Chatwing chat app is the MP3 upload feature. Now, users can upload their favorite music as long as it is embedded as link. Chatwing's developers have pondered that music is one of the strongest driving factors of blogs and websites today. Through music, more visitors can visit an average Chatwing chatroom.
Facebook users will now be able to chat in the Chatwing chatbox through their accounts. Logging in takes only few seconds, and user profiles will appear instantly. The same manner applies to Twitter users who are looking for entertaining chat experience. Based on the observation of the Chatwing team, people are visiting micro-chatrooms to gain new friends. With an uploaded music feature, these visitors will stay longer, contributing to the potential of the blog or website.
The customization options of the Chatwing free chat box have also been overhauled by a large degree. Now, users can change the colors and size independently, and they can freely select from Chatwing's three form factors. It all depends on the preferences of the users. Background image embedding is also now possible, and this can also increase the entertainment factor in the Chatwing chatroom.
Chatwing's free shout box will continue to have new developments in the coming months. This is to ensure that people will be able to engage in efficient and uninterrupted communication all the time. Apart from that, the Chatwing chat tool will become more competitive.
About Chatwing.com
Chatwing.com specializes in the new field of website chat. Over years, the Chatwing team has introduced live chat widget for hundreds and thousands of blogs. The Chatwing application bridges people from many parts of the world, creating global synergy through the Internet. The shout box can be installed in just seconds, and it can be used for varying purposes such as leisure and Internet marketing. It also allows a user to customize the size, color, and name of the widget. Chatwing is 100% free for everyone.