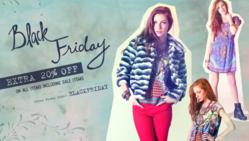 Thanksgiving, after all, is a word of action. W.J. Cameron
Los Angeles, CA (PRWEB) November 23, 2012
Flying Tomato, which is a foremost clothing line of modern and bohemian fashion, now presents their latest clothing line, "Billy" in order to add a touch of new flair to their present and edgy clothing line that they are offering.
"Billy" by Flying Tomato is described as boyish and casual yet with a touch of simplicity. It is indeed a bleak difference to the clothing line offered by Flying Tomato which it is popular for," stated by David Lee of Flying Tomato. "Billy" is basically a combination of a group of three distinct and one of a kind clothing lines. The "Billy" clothing line includes the Caitlin, Maya and Melanie categories which are composed of muted tones, plaids and a combination of colors that are considered trendy and unique. Every piece of the "Billy" clothing line offers a boyish and casual look that can be matched up with another piece. The outcome provides several outfit combinations by simply utilizing two or three main pieces from the clothing line.
"We are presently attempting to further grow our clothing line as well as complying with the needs of different women out there that are in search for trendy yet affordable clothes that will easily match with their lifestyle and fashion preferences," Lee continued. Flying Tomato is well known for providing a wide selection of Bohemian fashion styles. The combination of the unconventional and carefree appearance with the vintage patterns and styles to come up with a distinctive look is the main focus of Flying Tomato.
"Flying Tomato was initially established in order to provide women who are in search for the free-flowing and carefree characteristic of the Bohemian fashion style," Lee added. Along with the release of "Billy", as the latest clothing line, Flying Tomato is also offering two additional deals that are truly worth it. It includes free shipping on all the orders you will make before December 17 as well as a $10 discount on the first purchase once you will register for the email newspaper of the brand.
"We always look forward to cater to new clients as well as the existing ones," added David Lee.