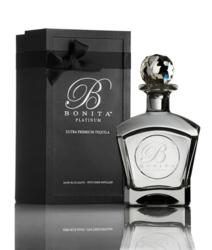 We are thrilled to have Xzibit give a preview of his tequila at the Phoenix Tequila Fest before its formal launch..." - Juan Elias, Phoenix Tequila Fest
Phoenix, AZ (PRWEB) November 22, 2012
Giving a preview of his Bonita Tequila, XZibit, the American rapper and actor will be showcasing his ultra-premium blanco tequila at this December's Phoenix Tequila Fest at US Airways Center.
Distilled an unprecedented 5 times to achieve maximum smoothness, Bonita Tequila is distilled from agave grown in the central lowlands of Jalisco, Mexico. Made from 100% USDA Certified Organic Blue Agave, Bonita's agave piña is roasted in traditional stone ovens for 96 hours and filtered three times using a proprietary cold filtration process.
Xzibit, a successful rapper, actor, and television host, was blown away by what Bonita had created. He knew at that moment that he had to make Bonita his own. Bonita was to become the tequila to define a new generation of hip, urban-savvy consumers who enjoy luxurious and artisan products with a modern flair. He became a partner of the company, co-owning Bonita Spirits with entrepreneur Chris Brown.
Xzibit joins the ever-growing list of celebrities such as Sammy Hagar, Vince Neil, Roger Clyne, Carlos Santana and Justin Timberlake who are affiliated with the popular spirit. He is distinctive in his complete involvement in the company as a co-owner of the Bonita Spirits Brand.
"Tequila is truly a global phenomenon which transcends all ages, ethnic backgrounds and cultures. We are thrilled to have Xzibit give a preview of his tequila at the Phoenix Tequila Fest before its formal launch in January. This event has become the platform for the newest labels to be showcased and sampled." - Juan Elias, Phoenix Tequila Fest
Xzibit will be at the Bonita Tequila booth at the Phoenix Tequila Fest both days of the festival, providing tastings of his ultra-premium Bonita Platinum. He will also be available for photos and autographs.
$45 all-inclusive tickets for the Phoenix Tequila Fest are on sale at Ticketmaster, US Airways Center Box Office or at http://www.phoenixtequilafest.com. Ticket includes all tequila and food sampling for the festival on December 15 and 16th from 1 pm - 5pm. More information is available at http://www.PhoenixTequilaFest.com or Phoenix Tequila Fest on facebook.
Download Bonita Tequila Media Kit at http://bonitaspirits.com/wp-content/uploads/2012/10/The-Bonita-Spirits-Company-Media-and-Press-Information.pdf
About Xzibit
Xzibit (Alvin Joiner) is a multiplatinum recording artist, actor and television personality, born in Detroit, Michigan, where he began rapping at a young age.
In 1992 Xzibit moved to Los Angeles, California to begin his music career, and became a major contributor to underground hip hop on the west coast through his affiliation with the Likwit Crew. He went on to build a solid career with projects alongside such big names as Eminem and Snoop Dogg. Already well established and critically acclaimed, Xzibit was recruited by famed producer Dr. Dre to join the all-star cast of Dre 2001(1999). He released a new album every two years following his 1996 debut album, "At the Speed of Life," until "Full Circle," which was released in October 2006.
An accomplished actor and television host, he can also be seen in films like 8 Mile (2002), Derailed (2005) and XXX: State of the Union (2005). His newest film is Seal Team Six: The Raid on Osama bin Laden.
# # #