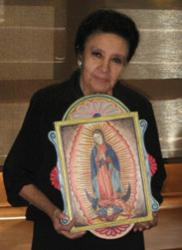 Reflecting on her 55 years, Marianne said "Working at First National Bank has been the greatest part of my life. I enjoy it and the people I work with…I've been here for 55 years and now I'm working on 56!"
Santa Fe, New Mexico (PRWEB) November 21, 2012
First National Bank of Santa Fe employee Marianne Candelario celebrated her 55th year with the Bank with a staff celebration thanking her for her years of dedicated service. Marianne began working at First National as a teller in 1957 when she was just 20 years old. Since that time she's held a variety of positions in several department including trust services, auditing and loan administration. The bank is featured in the business section of Santa Fe, NM's premier on-line visitor guide, SantaFe.com.
In addition to her long-standing service to the Bank, Marianne is a pillar of the Santa Fe community and has worked closely with the Fiesta Council since 1982. Every year Marianne volunteers at the Fiesta Information Booth located just outside the Bank's main office on the Plaza.
The bank was pleased to present Marianne with the gift of a hand-carved retablo of the Virgin of Guadalupe. The retablo was carved by local artist Lawrence Cordova, a Santa Fe native with pieces featured in the permanent collection at the International Folk Art Museum.
Reflecting on her 55 years, Marianne said "Working at First National Bank has been the greatest part of my life. I enjoy it and the people I work with…I've been here for 55 years and now I'm working on 56!"
About First National Bank of Santa Fe:
First National Bank of Santa Fe is the oldest bank in the Southwest and has been successfully serving the needs of individuals and businesses for over 140 years. Our sound banking practices, strong capital base, and a commitment to the communities we serve have allowed us to remain independent throughout our entire history. With 11 convenient locations in Santa Fe, Eldorado, Los Alamos, Albuquerque and Denver, First National Bank of Santa Fe is here to serve you with financial expertise and a highly personal approach to every relationship. For more information, call 505-992-2000 or visit our website at http://www.fnb-sf.com
Media Contact: Laura Altomare
505-992-2160
laltomare at 1stnationalbanknm dot com
About SantaFe.com
SantaFe.com provides locals and visitors to Santa Fe alike the most current interactive platform for events, music, arts, business, dining and lifestyle. SantaFe.com is a division of Hutton Broadcasting, located at 2502 C. Camino Entrada, Santa Fe, NM 87507
Contact Information:
Scott Hutton
SantaFe.com / Hutton Broadcasting
http://www.santafe.com
(505) 471-1067 (Media inquiries only, please)