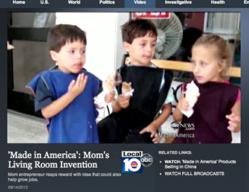 The stuff I bought from China; the toxins my kids were sucking on… I just couldn't morally do that.
Miami, FL (PRWEB) November 23, 2012
bibbitec featured as NEXT Million Dollar idea on ABC Made in America with Diane Sawyer
bibbitec, innovative pioneer of childhood neatness and leader in parental cleanliness is proud to announce that it recently was featured on ABC World News as an American Made baby product with intentions of changing the world one bib at a time.
During the interview, Susie Taylor, inventor and momprenuere remembers why she started her company in the first place. "All I had left was a bag of icky sticky clothes!" Frustrated by the lack of great baby products out there, Susie's mission was not only to create a better bib, but also to create a better business.
Her desire to stay in Miami and expand her product line came from her own experience with her children. Taylor recalls when asked why she doesn't manufacture overseas, "The stuff I bought from China; the toxins my kids were sucking on… I just couldn't morally do that."
This home grown idea began on the kitchen floor and is about to hit the world by storm. Just moments after her segment aired on Friday the 14th of September, orders to the online store flew in. Not only orders but special requests as well. One viewer wrote, "Can you make them for my husband and I? We eat lots of salad with balsamic vinegar so we need two."
"It was one of the best moments I can remember," said Taylor. "Having the country respond so viscerally to our product line and ultimately support our American made mission made all the years of selling mom to mom worth it!" exclaimed Taylor. "I couldn't thank ABC and World News enough for putting us on the map."
Taylor continues, "We are gearing up our factories and building up our inventory as sales keep coming in. My home business is still a home business and now my entire family is working together," prides Taylor.
bibbitec is an established, proactive and cutting edge South Florida "green" business that is an innovator and leader in parental cleanliness and childhood neatness solutions.
World News is a national news cast on ABC and the portion that Taylor was in was Diane Sawyer's Made in America segment which airs each Friday night at 6:30 est. The interview was done via Skype and the factory footage was filmed by local ABC crew members as well as Taylor herself.
For more information or to schedule an interview regarding this innovative product, please contact the PR contact Warmest regards,
Melissa Stolper
Melissa Stolper Public Relations
201.658.2019