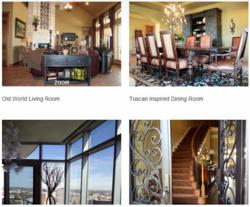 René Vinson Interiors
San Antonio, TX (PRWEB) November 22, 2012
InteriorDesigner.ws announces expansion of services to include commercial clientele. Services such as space planning, furniture, lighting, accessories, cabinetry, window treatments, painting, counters, flooring, and full service remodeling are now available in the corporate setting.
"We believe strongly that one's surroundings play a big part on how they feel emotionally, their productivity, and their overall well being. We take pride in creating a space for someone, whether it be at home or work, that will bring them a better quality of life through years of enjoyment." – Elizabeth Light, Staff Designer
René Vinson Interiors has been working with homeowners and builders for over 10 years. In the ever-changing business, their capabilities and services are constantly adapting. René Vinson Interiors offers a seamless approach to giving offices a minor facelift or complete overhaul. In the corporate setting, the same great attention to detail quality management, and professionalism is guaranteed. Their design team, along with skilled contractors, will work with management to make certain services are accomplished within the hours necessary in the least obtrusive manner.
About Interior Designer
Interior Designer (http://www.InteriorDesigner.ws) is a division of René Vinson Interiors. René Vinson Interiors, based in San Antonio, TX, encompasses everything you would want in an Interior Design firm. From extraordinarily talented designers to knowledgeable specialists/contractors, René Vinson Interiors is a dream team. A desire to help clients know they are of top priority at all times teamed with a relaxed atmosphere, sets them a part from the rest. Additionally, their attention to detail and understanding of what real people want make for a winning combo. Whether a client knows exactly what they like or have no idea, René and her talented staff will make the process easy and enjoyable. Every home should be a haven, and every office should reflect its owners. They are committed to making that become a reality. Whatever the project, large or small, they're happy to give guidance and clients are always free to move at their own pace.