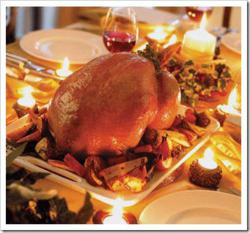 Monroe, WI (PRWEB) November 22, 2012
With Thanksgiving right around the corner it can be hard to not put on unwanted pounds that have been recently taken off in the gym. During the holidays it is easy to splurge on eating and forget about all the goals that have been made in the gym and the kitchen. With these easy cooking tips, this Thanksgiving can be healthier.
1. Don't use vegetable oil. Instead substitute vegetable oil with virgin olive oil or better yet coconut oil. This one simple change will make food healthier and taste better.
2. Avoid white carbs. This includes coating food such as chicken in flour before cooking it in virgin olive oil or coconut oil. A better, healthier, option is to coat the chicken in oatmeal. After the chicken is coated in oatmeal pan fry it in virgin oil or coconut oil. This will give the chicken a delicious taste and a healthy coating.
3. Avoid sugar. Sugar is not only a poor substitute for flavor but it in fact encourages fat cells to replicate. Sugar is easily replaced in desserts. There are sugar free options that taste just as good if not better than then its counter-part. One viable option for a delicious dessert is to take a packet of sugar free pudding and add a scoop of protein powder. Any flavor instant pudding is okay as long as it is sugar free.
4. Avoid red meat. White meat such as chicken or fish is a healthier option for weight loss. One way to cook fish is to put it in a glass container and to bake it at three hundred and fifty degrees.
Instead of feeling bloated and sleepy, these cooking secrets can make Thanksgiving a happier and healthier time.