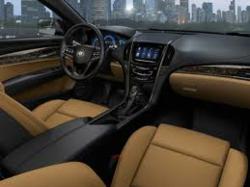 A feature that makes the ATS fun to drive, and also makes it uniquely appealing to buyers of compact sedans, is its light weight
Calgary, AB (PRWEB) November 23, 2012
Right now the automotive industry is lit up with news of the 2013 Cadillac ATS and that's not just because it is the most recent winner of the esteemed Motor Press Guild Vehicle of the Year award. This is a car that has been a long time in the making for Cadillac, who for years has struggled to contend with the European and Asian compact luxury sports sedans and for years has come up short.
It is for this reason that many are calling this a breakthrough vehicle for the Cadillac brand, one that is finally going to win a segment that Cadillac has been after for a long time. This is particularly gratifying for the division of General Motors as they have targeted the compact sedan segment throughout every stage of the ATS's execution and have assembled this vehicle from the ground-up with this exact goal in mind.
One of the things that makes this vehicle uniquely appealing according to many reviewers is its bridging of two worlds, which is in some ways characteristic for the Cadillac Calgary brand (with many of their vehicles they eradicate the gap between two seemingly disparate components of the auto industry). There is a huge focus on sportiness, litheness and handling as well as on pure luxury and in both cases the ATS hits its mark. There are also a handful of updated safety features which make the vehicle a more likely purchase for those with a family.
A feature that makes the ATS fun to drive, and also makes it uniquely appealing to buyers of compact sedans, is its light weight. In the Cadillac's previous efforts to access the compact sedan class, they often built vehicles that simply did not have a low enough weight to compete with the BMW 3-Series. But the ATS weighs in at 3,315 lbs, making it the lightest vehicle in the segment and allowing for many original and enjoyable steering and handling capabilities.
In just the past few weeks, the 2013 Cadillac ATS has made it to Calgary thanks to the efforts of this Calgary Cadillac dealership. Calgary is a city that has a strong market for luxury vehicles, and this vehicle is bound to have a strong appeal for many Calgarians. Already the rumour of the Guild Press award has spurred renewed interest in this vehicle, and now that it is accessible and test-drivable to anyone interested, sales numbers should begin to trickle in and the more concrete way of measuring the vehicle's success (in sales instead of awards) should begin to yield data.