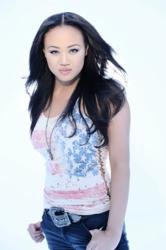 Be Your Own You
Atlanta, GA (PRWEB) November 22, 2012
Teen phenom, Cymphonique Miller has been invited to perform at the 65th Annual Lighting of the Macy's Great Tree on Thursday, November 22nd at Lenox Square. Nickelodeon superstar Cymphonique Miller who plays the lead role of Kacey Simon on the show How To Rock will perform live with multiplatinum artist Trace Adkins, and vocalist Chris Mann. These three will headline the lighting of the 60-foot white pine tree from Mableton to bring a celebration of song and Christmas cheer for all to hear.
The 35-year-old tree weighs 14,000 pounds with 8.2 miles of circuit wiring throughout to keep all of the lights bright and shining.
Decorated with 1,200 multicolored metallic basketball-sized ornaments, 100 Macy's stars, 100 white snowflakes, 50 flashing strobe lights, 400 internally lit ornaments, 4,000 11-watt bulbs, and a color-changing Macy's star.
The Macy's All-Star Cheer Squad, a group of 10-17 year old girls will also join the performers on stage to round out the musical show at the event.
Entrepreneur Cymphonique Miller is excited to share the stage with these girls and is an advocate for girls empowerment, her self-esteem lifestyle brand BYOU-Be Your Own You brings to life the importance of being true to yourself and giving girls the freedom to express their individuality through her apparel line, editorial magazine, and educational programs.
The 65th Annual Tree lighting is expected to have more than 100,000 people attend the 7-to-8 p.m. event. Another 500,000 will watch the live broadcast on WSB-TV, which will be hosted by news anchor Jovita Moore and meteorologist David Chandley.
The Macy's tree lighting celebration at the Lenox Square mall will be capped off with a fantastic fireworks finale set to holiday music.
About BYOU- Be Your Own You is a self-esteem lifestyle brand that was formed with the purpose of empowering girls and women through positive messaging, apparel and accessories; educational programs and editorial magazine. BYOU was formed in partnership with Children's Edutainment Network and Cymphonique Miller. Today, BYOU is building a brand that will touch the lives of girls and women worldwide. For more information, and to check out the online store visit, http://www.BeYourOwnYou.com