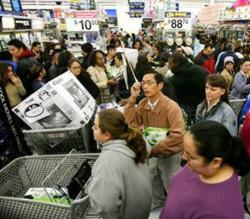 New York, NY (PRWEB) November 22, 2012
Black Friday is practically a National Holiday with everyone trying to pick up the best deals on all of their holiday and household needs.
People are surely raring to get into mega shopping mode. They have probably even prepared themselves to battle the toughest crowds at their favorite shopping destination. And the most seasoned shoppers must have already mastered their plan of attack to get the most out of the one-day-only sales.
But there's no need for all these now with the popularity of online shopping.
These past years, shops have tried to ease the overwhelming frantic crowds on this momentous night. They have opened up their online stores to accommodate the demands of eager shoppers all over the country looking to score the best deals.
The best thing about this is there's no need to get out there and endure the long queues and crowds; all the shopping happens in the comfort of the home!
Operation: Black Friday at Kohls.com
First off, Kohls.com opens its Black Friday sale as early as Wednesday and it ends at 3PM on Friday, while stores only open on Thursday and end at 1PM Friday. This means extended shopping hours right on your lovely couch.
Kohl's is also giving away $15 for every $50 spent by each shopper. So basically, all that shoppers need to do is shop, shop, shop because more shopping means more savings!
Amazing Early Bird Specials also await shoppers from every department. Toys are going for as low as $19.99, and Polariod digital gadgets, such the Polaroid 21xZoom Digital Camera at 50% off for only $149.99 and Polaroid Tablet for only $119.00. iPad and iPod fans looking to update their accessories can also anticipate huge discounts.
Black Friday Deals at JCPenny.com
At JCPenney.com Black Friday doesn't only happen on Friday, it begins on Thursday and goes all the way to Saturday! What's more, from Thanksgiving to Monday, November 26, JCPenney.com will be shipping for free with no minimum amount required.
Black Friday has never been this fun before, so get ready to shop til your fingers can't take it anymore!
Smart shoppers need to continually check for all the best Black Friday sales and deals from all online retailers. Find Walmart Black Friday Deals, Amazon.com Black Friday Deal of the Day, Target Black Friday Deals and Kohls Black Friday Deals.