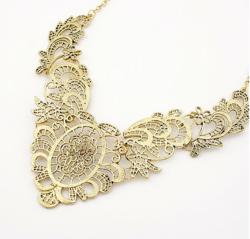 (PRWEB) November 22, 2012
Recently, Jewelryshopvip.com, a leading jewelry online supplier, introduced its Christmas Jewelry Collection with great discount, up to 80% off, This collection consists of nearly three thousand kinds of fashion necklaces, and the prices range from $1.00 to $25.00.
The Jewelries in this collection are trendy and attractive, mainly including charm necklaces, traditional necklaces, pendants, bead necklaces and necklace chains. Jewelryshopvip.com offers not only Christmas Necklaces and Christmas Bracelets collection, but also Christmas Charms. In addition, they are available in a wide variety of style and color.
"We offer best wholesale jewelry service with fast delivery on the market today. Customers can receive our products within few days after payment." Said, Christy, CEO of Jewelryshopvip.com.
Amanda, a customer from London, said, "I have been waiting for this day for a long time already! I used to buy Christmas Charms from Jewelryshopvip.com, and I was satisfied with the quality, though their price was about 60% lower than others's. Thank you very much!"
"The online market is the most important market for our company. We hope customers can enjoy our products and services as before." Stated, Christy.
Jewelry has been one of the most important accessories for women to assist them to acquire a complete look. Jewelryshopvip.com will help to buy fashion jewelry within a shoestring budget. With a vast knowledge of craftsmanship and consumer needs, Jewelryshopvip.com has the confidence to do better in the future.
About Jewelryshopvip.com
Jewelryshopvip.com is a professional fashion jewelry manufacturer and wholesaler. With eight-year experience and a vast knowledge of craftsmanship, Jewelryshopvip.com focuses its wholesale strategy of fashion jewelry, and customers can always buy jewelry at acceptable low prices.
More information can be found at: http://www.jewelryshopvip.com/