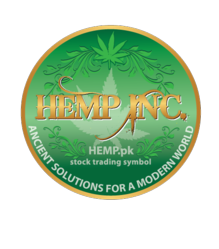 Las Vegas, NV (PRWEB) November 22, 2012
Re-Release - For those who missed it the first time, Marijuana, Inc. now Hemp, Inc. (HEMP) is pleased to announce that FINRA has approved the name change from Marijuana, Inc. to Hemp, Inc. This corporate action will take effect at the open of business 8/30/12. The symbol on this date will remain HEMP. CEO Bruce Perlowin stated, "Our new corporate identity avows the commitment the company has made to the Industrial Hemp Industry. Our partnership with Hemp.com was the first step in building a firm foundation for Hemp, Inc., and we expect the fourth quarter of 2012 to provide more solid results." President David Tobias continued, "The team at Hemp, Inc. is committed to becoming a leader in the industry, and we are currently taking steps to make that happen, from participating in hemp industry events across the country to meeting with likely acquisitions and partners in our efforts to make Hemp, Inc. a household name."
ABOUT HEMP, INC.
Hemp, Inc. (OTC: HEMP) focuses on the vast market created by the quickly emerging, and growing, multibillion dollar industrial hemp industry. Hemp, Inc. (OTC: HEMP) is not involved in the cultivation or marketing of medical marijuana. It is the company's belief that legalization of hemp in all 50 states and at the federal level will come to pass. With that in mind, the company is building infrastructure with the potential to gain substantial market share before and after industrial hemp prohibition ends. (Pending any federal licensing or other requirements, that may be enacted after hemp prohibition ends).
HEMP, INC.'s TRIPLE BOTTOM LINE
Hemp, Inc. (OTC: HEMP) seeks to benefit many constituencies, not exploit or endanger any group of them. Thus, the publicly-traded company believes in "upstreaming" of a portion of profit from the marketing of their finished hemp goods back to its originator, in which most cases will one day be the American farmer, cultivating natural, sustainable products. By Hemp, Inc. (OTC: HEMP) focusing on comprehensive investment results—that is, with respect to performance along the interrelated dimensions of people, planet, and profits— our triple bottom line approach can be an important tool to support sustainability goals.
CEO of Hemp, Inc. (OTC: HEMP), Bruce Perlowin, is positioning the company as a leader in the industrial hemp industry, with a social and environmental mission at its core. In fact, he wanted to, consciously, found a business with non-financial goals that weren't an after-thought, but are part of its DNA.
CONTACT:
Phone: 1-877-221-8351
Email: info(at)hemp(dot)com
hemp.com (Hemp, Inc.)
hempincnews.com (Hemp, Inc. News)
herbagenix.com (Hemp-Based Supplements Division)
basichemp.com (Hemp Protein with Enhanced Nutritionals)
mjlover.com (MJ LOVER for Him; MJ LOVER for Her)
re-load.biz (Hemp-Based Nutraceuticals)
ecoharmonycards.com (Loyalty Card Sustainable Fundraiser for Non-Profits)
supportpatchadams.com (Hemp Gemstone Candles and Fundraiser for Patch Adams)
hempinc.tv (Media and Entertainment Division)
SOCIAL NETWORKS:
twitter.com/marijuanainc
twitter.com/bruceperlowin (CEO Tweets)
facebook.com/bruceperlowin (CEO Fan Page)