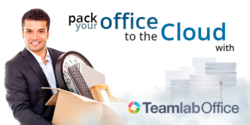 The much-talked about HTML5-based document editor is expected to become the key-supplement of the service.
Latvia, Riga (PRWEB) November 23, 2012
Ascensio System SIA, the developer of TeamLab- a multifunctional set of business tools has shed light on the peculiarities of the software's new version. The stable version of TeamLab Office Edition, the most anticipated and at the same time the most significant upgrade of the service, is about to be introduced.
The idea of providing a variety of business tools in the cloud was taken to a whole new level with TeamLab Office Edition. The new version is a combination of the sought after features of the platform with groundbreaking technologies enabling users to finally take all of their paperwork to the cloud.
The much-talked about HTML5-based document editor is expected to become the key-supplement of the service providing its users with cutting-edge online document management means that have no current equivalents whatsoever. TeamLab Office Edition developers claim the application is going to get as close to desktop editors in terms of functionality, quality and speed as a cloud-based application possibly can - the task that other SaaS document management tools like Microsoft Office 365 didn't quite cope with.
At the same time TeamLab managed to accomplish the task of internal services' integration. Alexey Bannov, Product Development Head states: "Having a greater number of services than our popular rival was one of our goals, but later we realized the importance of how well interconnected they were. The new version of TeamLab for instance allows you to link a certain CRM contact to a project, leaving aside the obvious ability to attach and edit a document right in the project management section. Three modules in one workflow - as simple as that."
Rapid development of the service brought about the necessity to redesign the interface from scratch. Poor intuitiveness was among the top points Office 365 was criticized for so Teamlab developers had to do anything possible to elude that drawback. Alexey Bannov: "A quick glance clearly reveals that TeamLab Office Edition has shifted its accents towards maximum simplicity and consistency in navigation between the modules of the platform. Needless to say that the fundamental Documents module has finally come to the fore."
The new pricing policy of the service is yet to be finalized but the rightfulness of Teamlab's claim to undermine the firm position of Microsoft Office 365 on the market is beyond any dispute. More intuitive interface, broader toolset, richer functionality with unique technology brought into play corroborate this statement. For more information about TeamLab Office Edition please email to nina.gorbunova@teamlab.com
About TeamLab
TeamLab is a web service for business collaboration, document, project and customer relationship management that integrates a number of online tools helping employees to organize business tasks, exchange news, manage corporate documents and communicate in real time. For more information refer to http://www.teamlab.com.