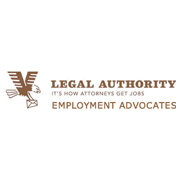 The number of recent law school graduates to be placed at firms is expect to hold steady or increase.
Pasadena, CA (PRWEB) November 23, 2012
Despite several seasons of lackluster hiring numbers, it seems the legal industry is finally improving thanks to a slight increase in the number of summer associates firms are picking up. This may be largely due to the fact that law schools are accepting fewer students, creating small graduating classes that are easier to select from. This makes law student hiring a bit easier for firms, which is good for everyone involved.
LegalAuthority.com, a site that helps attorneys find jobs, understands how tough it is out there yet offers only hope. "Finding legal employment is tough for many recent law school graduates but they don't have to succumb to the market," says company CEO, A. Harrison Barnes. "In fact, opportunity abounds--new recruits just need to know where to look."
The same can be said of firms looking to hire recent graduates. It may be tempting to hire a large number of associates for the summer but it's a much better idea to be selective. Thankfully, class sizes have decreased, allowing firms to pick the best of the bunch a bit more easily than in the days of booming legal prospects.
Even though the industry may seem rough for many at the moment, the overall performance is on par with previous time periods. According to the Bureau of Labor Statistics, the job outlook between 2010 and 2020 is a 10-percent increase over the 10-year period.
Law school student recruiting may not be as active as it has been in years passed but it's still one of the primary ways new graduates find work. That's why many students get apprehensive over poor job or hiring numbers. Still, if the BLS projections hold true and if LegalAuthority.com is to be believed, the number of graduates placed at firms should hold steady, if not increase, over the next several years. Following a recession like the one most recently experienced, that's all any new attorney could hope for.
About Legal Authority
LegalAuthority.com is a site dedicated to helping people in the legal field find employment.