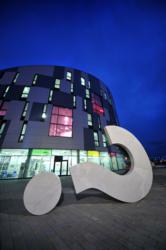 The 'Question?' is now embedded in the landscape and in our lives.
(PRWEB UK) 22 November 2012
The two-part work, created by internationally-acclaimed artists Langlands & Bell, features a large marble and granite question mark located outside the UCS Waterfront Building and is linked to a LED screen on top of the town's iconic chimney tower at the Campus North site. Combining traditional materials and techniques with modern technology, it provides a visual, topographical and experiential connection between the two areas and has become a powerful statement within the landscape with significance for UCS, Ipswich, the region and beyond.
Artists Langlands & Bell were commissioned by UCS in partnership with Arts Council England to develop the project, facilitated by Commissions East. They describe their work as exploring "the complex web of relationships linking people, architecture and the built environment. The work at UCS will contribute significantly towards reconnecting the campus and its urban realm in the minds of users."
The long established Ipswich Society presented the annual award under the recognition of projects that have made a notable contribution to the townscape during a ceremony held at St Peter's Church, Ipswich on Wednesday 21 October.
Dr Chrissie Harrington, Head of the School of Arts and Humanities and who led the initiative, said upon receiving the award: "It is fantastic that our 'Question?' has been recognised in this way. We are rewarded by the number of different people who engage with the artwork on a daily basis and really enjoy it. The 'Question?' is now embedded in the landscape and in our lives."
This news marks another success story for the School of Arts and Humanities. It reinforces the School's reputation for outstanding achievements as highlighted in the Sunday Times University Guide 2012, which ranked UCS as number one in the country for Teaching in Art and Design – an outstanding result for UCS.